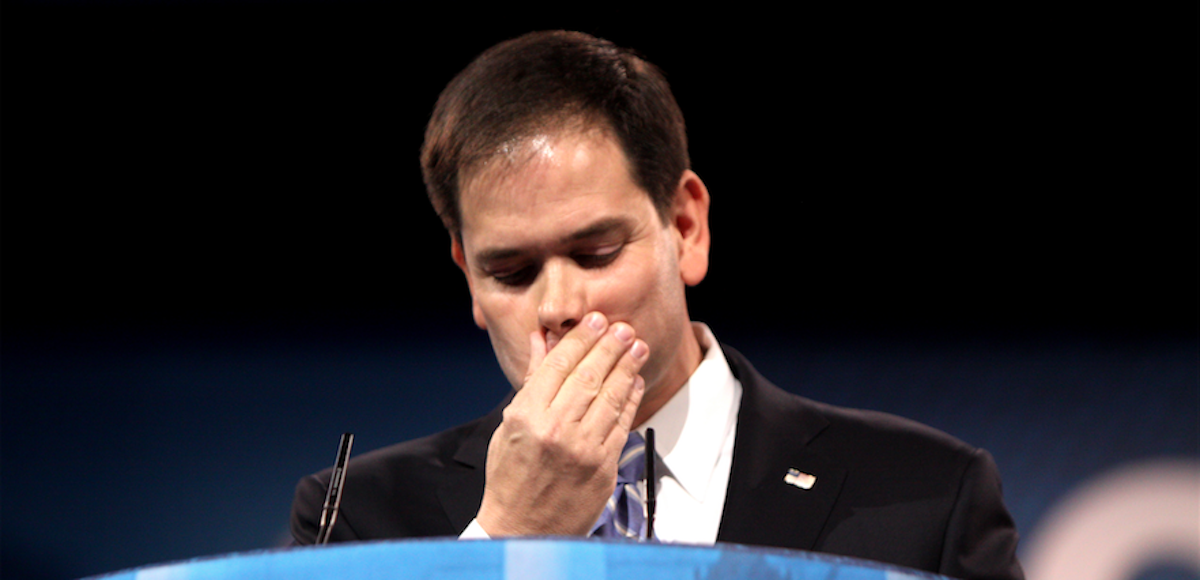 After repeatedly being called out by New Jersey Governor Chris Christie about his robotic, pre-packaged answers in Saturday night's GOP debate, Republican presidential hopeful Marco Rubio has seen his poll numbers drop precipitously going into the all-important first-in-the nation NH primary on Tuesday.
Christie cast the first term Florida senator as too unready, ambitious, and superficial to occupy the Oval Office. Rubio's befuddled expression as he repeatedly refused to answer questions directly — instead slamming Obama over and over — clearly made many viewers also question his ability to handle the job of most powerful office-holder in the world.
Indeed, according to Politico, a new poll conducted on Sunday by the pro-John Kasich New Day for America Super PAC shows Rubio plummeting to fourth place in the Granite State with 10 percent of the vote. Most of the polling conducted in the immediate days before the debate showed Rubio in second place after what many considered his "over-performance" as third place winner in the Iowa caucus. Importantly, immigration — which many consider to be Rubio's Achilles heel — continues to be a top concern for NH voters.
Donald Trump continues to hold a commanding lead in the survey, receiving 35 percent, more than double runner-up Kasich, who has 15 percent. Jeb Bush follows in third, with 13 percent. Behind Rubio in fifth and sixth place, respectively, are Christie and Ted Cruz, both at 8 percent.
A new report by Breitbart, however, may make the Cuban-American senator's week even worse. According to Stephen Miller — communications director for Senator Sen. Jeff Sessions (R-AL) who led the opposition to Rubio's Gang of Eight immigration bill — the Florida senator "directly deceived" immigration law enforcement and the American people during his push to get the bill through the Senate.
Miller — who now serves as a Senior Policy Advisor to Donald Trump — revealed for the first time how Rubio treated the nation's Immigration and Customs Enforcement (ICE) officers in 2013.
He recounted how, despite the Gang of Eight promises to enforce immigration law, provide no welfare, no food stamps, no amnesty and ensure tough border control, it was instead all a lie. The bill concocted by the group provided all of the above benefits. Disturbingly, opponents noticed early on in the process that Rubio's Gang of Eight met with all of the pro-immigration special interests in America — the Chamber of Commerce, myriad corporations, La Raza, and the White House, among many — but no immigration officials.
When ICE official and marine Chris Crane finally had the chance to meet with Rubio, the freshman senator repeatedly denied Crane's comments regarding language in the bill that provided legalization of criminal aliens and a clear lack of support for ICE. Ultimately, Crane said that he obtained a commitment from Rubio to ensure items of importance to ICE officers would be included in the bill.
But just hours later, Rubio and the Gang of Eight introduced a bill delivering everything the open borders advocates wanted. Before it was delivered, however, Rubio and fellow Gang of Eight members, including Chuck Schumer (D-NY), held a press conference.
Reportedly, Crane — who represented 7,000 ICE officers and had just been lied to directly by Rubio — wanted to ask a question and was repeatedly denied the opportunity to do so by Schumer, with Rubio standing right by his side.
According to Miller, Rubio looked directly at Crane, who kept asking "Will you take a question from a law enforcement officer?" Instead of acknowledging the man to whom he had just promised support in the bill — support that was never actually put in it — Rubio stood silent as Schumer refused to answer his questions, until Capitol Hill security came to remove Crane from the venue.
Miller concluded:
"You have to ask yourself when you're thinking about who you choose as a commander-in-chief, how you'd feel about somebody who's willing to give the Chamber of Commerce, La Raza, Larry Ellison, Microsoft, Mark Zuckerberg everything they want, but who is not even willing to have an honest meeting with ICE officers? You have to ask yourself what game was he playing? What was the goal? What could compel somebody to do that?"
Miller notes that Rubio had leverage and could have said to Schumer anytime he wanted to, "Mr. Schumer, unless Chris Crane gets what he wants, I'm walking away."
But he didn't. Instead, Rubio — who continues to say to voters "I just wanted to get the best bill I could get out of the Senate" — really should say, "I tried to get donors and open borders interest groups the best bill for them that I could get out of the Senate."