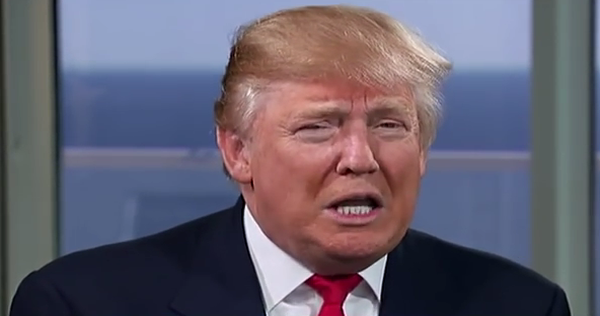 Who would have ever thought a twice-divorced, big-mouthed-blowhard from New York City with a history of supporting Democrat candidates and issues, would hold a dominating lead in the conservative SEC Bible-belt states in the race to be the Republican nominee for President?
Whether against the entire field on in one-on-one match-ups, Donald Trump wins, wins, wins, according to a Bloomberg poll conducted from February 22 to 24 in Alabama, Arkansas, Georgia, Oklahoma, Tennessee, Texas and Virginia.
When asked to choose from the field of Republican candidates, Trump is the first choice of 37 percent and second choice of 13 percent of those taking the poll. Senator Rubio and Senator Cruz were both second choice for 20 percent, however, Rubio was second choice for 22 percent while Cruz was second choice for 19 percent of those taking the poll.
Miraculously, Trump fared better than the Pope after the recent dust-up between them over the Pope's comments about Trump's commitment to build a wall to keep out illegal aliens. In this conservative seven-state region, Trump was viewed in a positive light by 60 percent while 54 percent felt the same of the Pope.
Respondents see Trump as stronger than either Cruz or Rubio on authenticity, protecting against terrorism, ability to win a general election and having a positive vision for the future. Trump does not score as strongly on questions about being a committed Christian or a solid conservative.
"These voters rate Trump as the least conservative and the least committed Christian of the three top candidates, and yet he still leads," said pollster Doug Usher. "He's turning everything we thought we knew about Republican primary voters on its head."
When given an either-or choice, the vote went 49 percent for Trump and 40 percent for Cruz, with 10 percent unsure.
Again, in an either-or choice, the vote went 48 percent for Trump and 44 percent for Rubio, with 8 percent unsure.
The race between Cruz and Rubio was also close at 45 percent for Rubio and 40 percent for Cruz, with 15 percent unsure. This is curious in that Cruz is the candidate who most openly speaks of his Christian faith.
The race isn't over yet, however. Over 53 percent say they could still be persuaded to support someone other than their first-choice candidate. Additionally, about 20 percent of the voters state they could never support a Trump candidacy, compared to 17 percent saying the same of Cruz and 10 percent saying that of Rubio.
There is a barely flickering glimmer of hope for Senator Cruz or Senator Rubio, but the surprising preferences of the Bible-belt voters appears to have the Trump typhoon poised to blow that hope away with a strong showing on Super Tuesday.
h/t Bloomberg