When one thinks of Starbucks coffee houses, visions of baristas, hipsters, over-priced lattes and liberals might come to mind. The coffee chain is known for pushing the leftist agenda of its high level executives, who contribute more campaign donations to progressive candidates than those at any other coffee company.
The popular American chain has expanded globally, but has now come under fire after posting a controversial sign catering to Islam. It seems that outraged liberals who saw the sign didn't quite connect the dots between the treatment of women in Islam and their fantastical, "coexist" notions of the religion.
At issue was a sign taped to the door of a Riyadh outlet of the coffee chain in Saudi Arabia, warning females in English and Arabic not to come into the store, but rather to have their male drivers order for them. Under Sharia law, women are not legally allowed to drive cars.
According to News.com.au, the sign went viral when a Lebanese woman tweeted the following image along with the message, "Imagine a place where you can't: 1) Drive yourself to a coffee shop 2) Order your own coffee."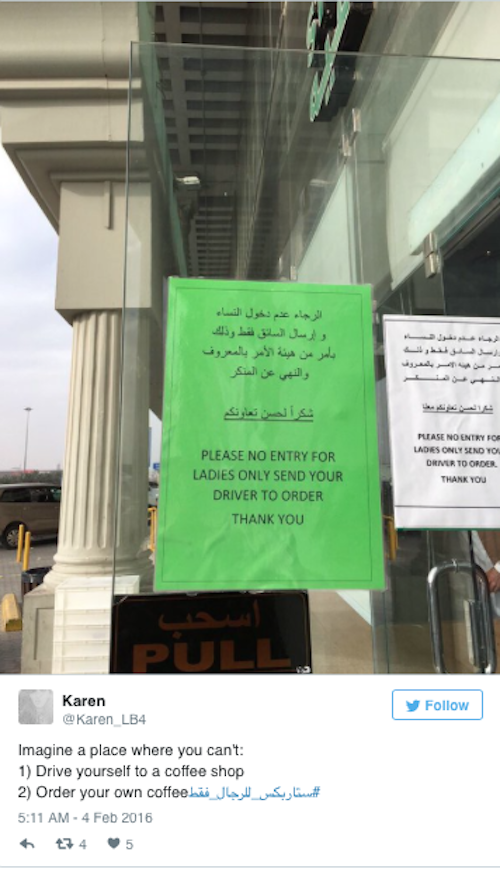 Starbucks attempted to defend itself, but the post had already spread far and wide across the internet. Liberal feminists began protesting outside the chain's stores, calling for a global boycott, apparently not satisfied with Starbucks' response:
"At Starbucks, we adhere to the local customs of Saudi Arabia by providing separate entrances for families as well as single people. In addition, all our stores provide equal amenities, service, menu, and seating to men, women and families."

"We are working as quickly as possible as we refurbish our Jarir store so that we may again welcome all customers in accordance with local customs."

"We have worked with local authorities to obtain approval to refurbish one of our stores in Jarir, which was originally built without a gender wall. That meant it could only accommodate men in accordance with local law."

"This was the only such Starbucks store in Saudi Arabia. During construction, the store could only accommodate and serve single men, and a poster was placed at the store entrance as required by local law."

"We are pleased to share that the store is now accessible to single men on one side as well as women and families on the other side."
The irate feminists — many of whom undoubtedly have "Coexist" bumper stickers on their Prius cars — had clearly never thought about the outrageous discrimination perpetuated by their favorite religion against their Islamic sisters. The Sharia law under which hundreds of millions of Muslim women must live forbids them from not just driving, but also from holding a passport, marrying, travelling, or accessing higher education without the approval of a male guardian. In many Islamic countries, women must be covered head to toe in a black burqa as a sign of modesty.
Ultimately, it's pretty disturbing that it took a sign at a coffee shop to snap some liberal feminists out of their delusional mindset about the "religion of peace." Perhaps Starbucks can institute a requirement that customers must pay for the fellow in front of him or her in line in order to educate the mindless masses about the pitfalls of socialism.
h/t: Mad World News
---