The legendary conservative icon has had enough of Marco Rubio and just unloaded on him.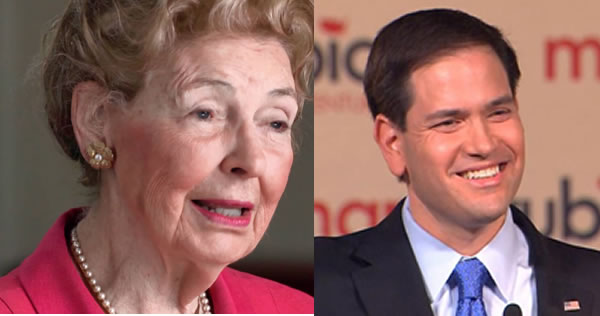 In an exclusive with WND the conservative activist had this to say:
"When Marco Rubio ran for the Senate in Florida, I think I was the first one to endorse him," said Phyllis Schlafly. "I made a trip down to Florida in 2009 just for the purpose of helping him."

"Once he got elected, he betrayed us all," she told WND. "He said he was against amnesty and against the establishment. And once he got in, right away, he became an agent of the establishment. And now, of course, he's big for amnesty and letting all the illegal immigrants in. He betrayed us a number of times on that issue."
Schlafly said she was startled at the magnitude of Rubio's "betrayal" on amnesty.
"It was so public," she said.

"He's a lackey for the establishment now," she said. "There's no question they're picking up as Plan B – or maybe Plan C in this election cycle, or whatever we're on now – but he certainly is an establishment agent."
You can read the full interview at WND