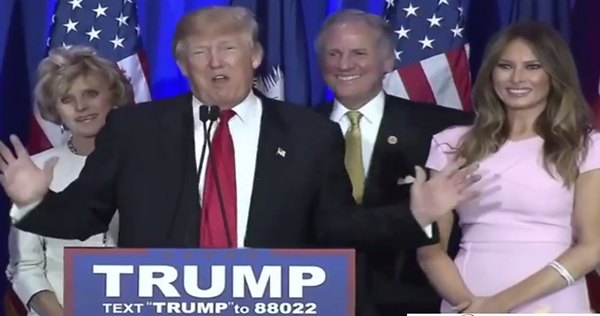 In breezing to his second straight Republican primary victory in South Carolina, Donald Trump has proven that the 'conventional wisdom' of the Republican Party's platform is conventional no more.
Picking up on the revolution that the aged Republican Party elite have denied to their peril, Steve Schmidt, the chief strategist for John McCain's 2008 presidential campaign, acknowledged, "Donald Trump has turned the conventional wisdom inside the Republican Party upside down. We live in an era where trust has collapsed in every institution in the country except for the U.S. military. Republican voters in substantial numbers have a deep contempt for the leadership of the Republican Party."
Trump has slashed and burned through hallowed Republican stalwart positions like Sherman's 'March to the Sea,' and Republicans have rewarded him with double digit leads over his competition.
The bombastic billionaire had no reservations stating the George W. Bush administration "lied" about weapons of mass destruction prior to the War in Iraq and placing blame for the 9/11 attacks on his shoulders.
Trump has also asserted that Planned Parenthood, which has been long reviled by Republican faithful, actually does some "wonderful things," with the exception of the abortions it performs.
Once upon a time, the Republican Party claimed to be the party favoring small government. Trump has voiced support for universal health coverage, stating, "We gotta take care of people that can't take care of themselves." And when asked who will pay for those people, Trump doesn't pause at all. "The government."
Trump has blasted Apple for defending individual privacy rather than acquiesce, comply and supply the FBI with a 'back door' into iPhones. His faithful seem willing to hand over their liberty.
Before Trump, such positions and assertions would have been blasphemous and he'd have been run out of the party on a rail. But not Trump. His message is resonating with Republican voters today.
h/t Bloomberg