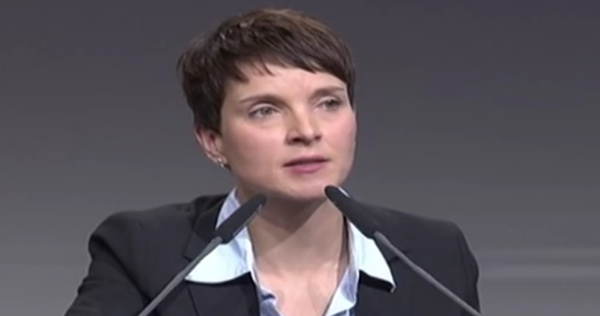 The forty-year-old mother of four became the de-facto spokesperson for her party last June and has pushed even harder for an anti-immigration agenda and criticism of the government's immigration policies.
Ms Frauke Petry said that a border police officer "must stop illegal border crossings, and also make use of his firearm if necessary," adding, "no policeman wants to fire on a refugee and I don't want that either. But the last resort includes the use of armed force." Her comments were reported by the Mannheimer Morgen daily.
"We need comprehensive controls to prevent so many unregistered asylum seekers from crossing the border," Petry said.
Petry's right wing party, Alternative fur Deutschland (Alternative for Germany), has collected increasing support in recent months as German public opinion has dramatically changed on the country's immigration policy.
According to a poll conducted last week, over 11 percent of the German population would vote along with AfD, while support for Chancellor Merkel's coalition government decreased to 37 percent.
A separate survey conducted by Insa found that 39.9 percent of Germans considered Merkel's refugee policy to be grounds for her to step down.
Germany has received nearly 1.1 million refugees in the last year. AfD has been among the vocal critics of German Chancellor Angela Merkel's "open doors" immigration policy. AfD has gained wide support as more Germans question whether the government will be able to deal with the influx of asylum seekers.
German politicians and national police union rejected Petry's suggestion, saying no police officer would shoot at a refugee.
"Whoever proposes such a radical approach apparently wants to overturn the rule of law and exploit the police," said Joerg Radek, vice-chairman of the GdP police union.
The Bild newspaper report that Vice Chancellor Gabriel stated, "There is massive doubt that (the Alternative for Germany party stand by the free democratic order of the republic."
He was reported to have called for the government agency that tracks extremists to put AfD under observation.
h/t
DailyMail
,
DW
,
NewsGrio