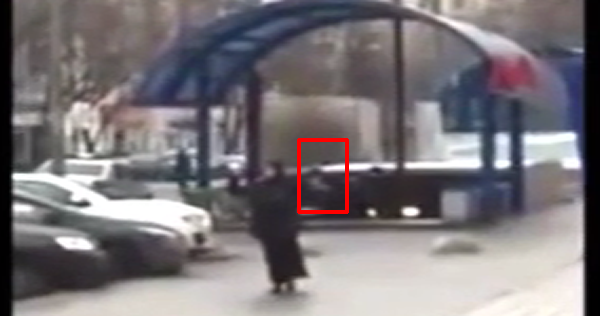 A 39-year-old burka-clad nanny was arrested for walking the streets shouting "Allahu Akbar" while brandishing the head of a young girl.
The woman reportedly was witnessed pulling the head out of a plastic bag and then wandering the streets near the opening to a subway station shouting "I'm a terrorist," that she had been "cursed" and "destroyed" "so many times," and "I hate democracy."
She also yelled, "I'm your suicide bomber… I'm going to die in a second. The end of the world." "My child was killed… I will blow up everyone."
Near the Oktyabrskoye Pole subway station in Moscow, the woman was witnessed carrying on her act for approximately an hour before police finally took her down.
A witness on the scene, Alyona Kuratova, told Rain TV, "I came out of the shopping center and they tried to not let me through. There were a bunch of people there, running, screaming 'Bomb, Bomb.' I saw that a woman was walking near the Oktyabrskoye Polye metro, near the road, all in black. She had not even some kind of bundle, but a head. Maybe it was a child's head, like they were whispering in the crowd. She was shouting something."
Her motive has not yet been confirmed.
Sources indicated that the woman worked illegally, without a work permit, as a nanny for a couple for the last 18 months.
A spokesperson for the Moscow Interior Ministry, Yulia Ivanova, said, "[The suspect] had waited until the parents left with the older child, and for unknown reasons committed murder of the child, set the apartment on fire and left the scene of the crime."
When fire crew arrived at the scene of the fire, they rescued four people, put out the fire and found the beheaded body of the child.
The woman has been charged with murder and is undergoing psychiatric testing. She faces up to 20 years in jail if she's deemed psychologically fit to stand trial. Police are not investigating the incident as terrorism.
The child's mother had to be taken to a hospital after collapsing when she learned of the news.
h/t
express