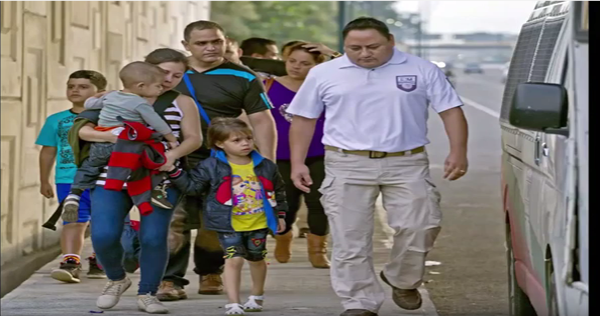 Cubans cruise across the border and enter the town of Laredo by the hundreds each day. They are greeted with friendly smiles, approved for entry into the United States and assisted by volunteers who arrange travel to their U.S. destination, and help them obtain work permits and federal benefits such as food stamps and Medicaid.
It is a stark contrast to the kind of treatment received by Central American families who were fleeing their violent homelands in 2014. Those migrants were detain by Border Patrol agent and ordered to appear in immigration courts.
The difference has not gone unnoticed by the predominantly Mexican-American community of Laredo, and tensions are simmering hotter.
U.S. State Representative from Laredo, Henry Cuellar (D), said, "They are asking, is it fair that the Cubans get to stay and the Central Americans are being deported."
Outside the Mexican-American community, a local group of veterans from the Afghanistan and Iraq wars held two protests recently, stating the federal government was spending money on Cubans, but it was still not meeting the needs of the people already here, in particular the Vets.
The Cuban migrants take the fast lane through the border. They are fingerprinted and ushered through a routine criminal and terrorism background check. There is no special vetting, no medical examination or vaccination requirements for the Cubans.
Among the passengers on one of the direct flights from Costa Rica to the Mexican city across the border from Laredo were 41 pregnant women and their families.
One woman, Yadelys Rodriguez Martin, 28, who was 19 weeks pregnant, was surprised at how quickly and easily she was admitted into the U.S.
"We are not used to things happening so fast," she said.
Milton Borges Gonzalez, 38, said he was "the happiest man on earth" when he saw his pregnant wife, Lisbeth Torres, emerge from the border station.
Several local Mexican-American residents don't deny the Cubans their opportunity to enter the country, but they do question the immigration standards.
Local lawyer and rancher, Ricardo de Anda, said "People are not saying, 'Don't let the Cubans in.' They are pointing out the irony of an immigration system that allows them to come in at will and causes so much hardship to others."
De Anda had helped mobilize aid for the Central Americans who were said to be fleeing murderous criminal gangs in 2014, who were held in freezing detention cells. They received no expedited treatment and were faced with asylum battles in court that were unwinnable and ended up in deportation.
According to official figures, over 12,000 Cubans entered the U.S. through Laredo and other Texas border towns in the last three months of 2015. There are 5,000 more estimated to be in a holding pattern in Costa Rica, waiting their opportunity to move to the U.S. Officials estimate up to 48,000 Cubans could cross through these border towns in 2016.
h/t
Statesman