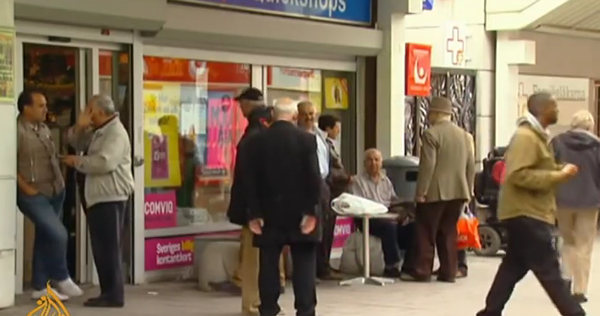 The refugee issue has been named as the most important political topic in the country, ahead of health care education and ahead of unemployment.
The resultant increasing social unrest and anger over the government's 'open door' immigration policy is even producing a shift in Sweden's political landscape, bolstering the ranks of the right to levels that haven't been seen in years.
The Sweden Democrats, a group with an anti-immigration and a neo-Nazi past, is shown in a recent poll to have now become Sweden's largest political party with 28.8 percent of the vote.
Time and time and time again, the responsibility for the rapid rise on the right has been laid at the feet of the government.
Anna, a 35-year-old local shop assistant in Stockholm, said, "The immigration policy is to blame for what happened here [referring to the recent attacks at the Stockholm central railway station.] The government does nothing to control immigration. They don't tell us what is happening. They did not ask before they let hundreds of thousands of immigrants in to the country."
"I can understand why those people attacked immigrants," she said
Many said the attacks in the city were terrible, but believe they were the result of the government's lax immigration policy.
A volunteer worker at an old people's home said, "Some people are frightened by immigration. They fear they will lose their jobs because of immigrants." She didn't believe it was true.
Almost overnight, the once idyllic country of Sweden, long proud of its liberal society and welfare state, has come under uncomfortably intense examination over its open-arms approach to immigrants. Their agenda has met widespread resistance.
"I have been to North Africa and the Middle East and you can't go anywhere without being harassed and it's becoming like that here."
"We are having to adapt to their [the refugee's] culture. They should adapt to our culture, obey our laws and traditions."
However, that hasn't been the norm and the Swedes are re-organizing to fight back and a latent brand of Swedish radical nationalism is percolating to the surface.
Jonathan Lemas, a researcher at the neo-Nazi watchdog organization Expo, said, "Sweden has always had far right political organizations. Radical nationalism is part of the political landscape in Sweden."
Ingvar Kamprad, founder of IKEA, was a member of the New Swedish Movement, a pro-fascist group, and friends with its leader, Per Engdahl, who was also a support of Adolf Hitler.
Neo-Nazi thug and spokesman for the Swedish Resistance Movement, Emil Hagberg, says Sweden is growing stronger and more determined to stand up to the "madness."
"We have huge sympathy with the vigilantes who fought back on Friday [at the Stockholm Center]," he said. "Finally someone has stood up to this madness. This coming year will be interesting. We will mount our own patrols in cities and towns in Sweden, wherever capable."
h/t DailyMail, Viral247News