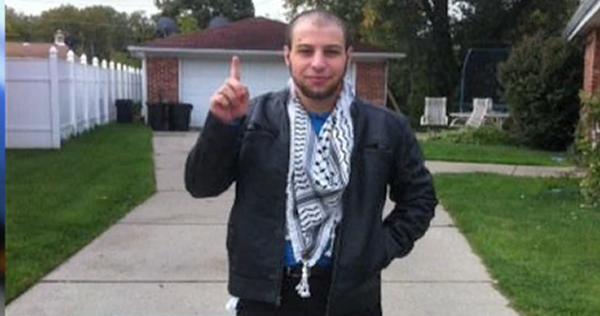 Social media conversations with an undercover FBI employee over several weeks led investigators to arrest Khalil Abu-Rayyan, 21, for possession of a controlled substance and a firearm that traveled in interstate commerce and for allegedly planning to "shoot up" a large Detroit church.
A detailed complaint revealed the FBI had Abu-Rayyan under investigation for nine months "regarding increasingly violent threats he has made to others about committing acts of terror and martyrdom – including brutal acts against police officers, churchgoers and others – on behalf of the foreign terrorist organization Islamic State or Iraq and Levant."
"I tried to shot up a church one day," Abu-Rayyan is quoted as saying in court records. 'I don't know the name of it, but it's close to my job. It's one of the biggest ones in Detroit. Ya, I had it planned out. I bought a bunch of bullets. I practiced a lot with it. I practiced reloading and unloading. But my dad searched my car one day, and he found everything. He found the gun and the bullets and a mask I was going to wear."
Investigators did not disclose the name of the church referenced by Abu-Rayyan, but confirmed there is a large church that can accommodate 6,000 members and covers approximately two city blocks about one-half mile for Abu-Rayyan's place of work. Abu-Rayyan had told the FBI employee he thought attacking the church would be "easy."
"A lot of people go there. Plus people are not allowed to carry guns in church," he's quoted in the affidavit. "Plus it would make the news. Everybody would've heard. Honestly I regret not doing it. (If I) can't go do jihad at the Middle East, I would do my jihad over here."
According to court documents, Abu-Rayyan has used Twitter since 2014 for "retweeting, liking and commenting" on ISIS propaganda. The affidavit states his posts showed "video of a Jordanian fighter pilot being burned alive, men being thrown from a high rise building to execute the, the beheading of Christians in Egypt and news of ISIL victories."
Documented correspondence with the FBI employee indicated "Abu-Rayyan consistently expressed support for ISIL and repeatedly expressed his desire to commit a martyrdom operation." He also state, "I would gladly behead people if I needed to …It is my dream to behead someone…"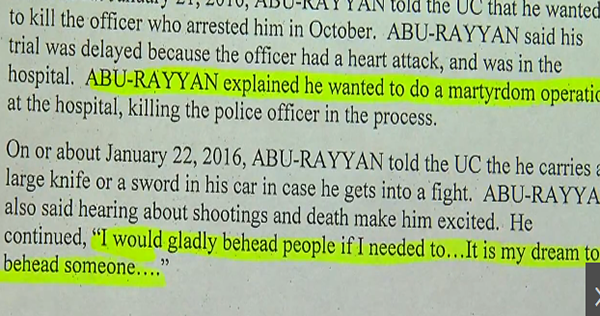 He tweeted pictures of himself practicing firing an AK-47 and AR-15 type rifles at a local firing range. He wrote the caption under one picture "Sahwat hunting," which refers to hunting those Iraqis in opposition to ISIS. Records indicate he bought a .22 caliber revolver at a Dearborn Heights sporting goods store in October. He replayed opportunities for a "martyrdom operation" at a venue where he could go out with a bang, like the big church, which remained a possible target.
Abu-Rayyan was initially arrested on marijuana and firearm's charges. According to the affidavit, a few days after pleading guilty he told an undercover agent he wanted to kill the officer who arrested him in a "martyrdom operation" at the hospital where the police officer was receiving treatment after a heart attack.
The Muslim community warned of jumping to rash conclusions. Musammil Ahmed, board chairman of the Michigan Muslim Community Council, said, "We advise people not to jump to conclusions about what happened and wait for all the facts to come in. Our thoughts are with our Christian friends and congregation that were threatened. We think that isolated acts like this, if they are indeed true, are an anomaly in this area."
The problem is when anomalies become less so.
h/t
DetroitNews
,
CBSDetroit
,
DCClothesline