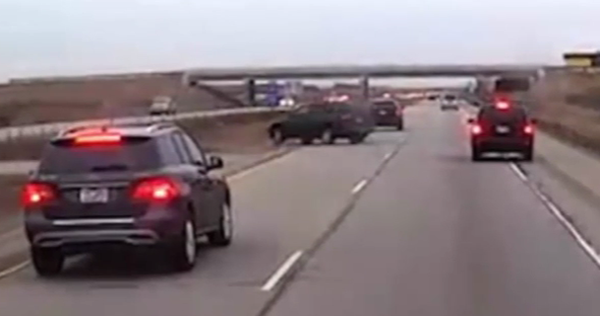 Dramatic moment motorist slams on brakes while being tailgated on highway – sending other car skidding off the road.
A tailgater experienced instant karma when the motorist in front of him slammed on his brakes – causing him to skid off the road and onto the grass median.
The dashcam footage was captured on a highway in Little Chute, Wisconsin and shows two cars travelling in the left-hand lane of the freeway.
One drives very close behind the one in front and almost pushes the vehicle along the road.
Suddenly the car in front slams on its brakes, causing the driver behind to take evasive action to avoid a collision.
Slamming on the brakes, the driver suddenly goes into a skid and is unable to control the car as it snakes from left to right on the road.
Moments later it then slides off the road – skidding onto the grass median in the middle of the lanes of traffic heading in both directions.
The vehicle is then seen smashing into a pole before coming to a stop after hitting the crash barriers.
All the while the car who slammed its brakes on continues with its journey, indicating into the other lane and heading off.
One driver slows down however in order to check up and see whether the driver of the crashed car is injured and the video clip concludes.
According to 9 News, the driver of the crashed vehicle received a ticket for tailgating following the release of the footage.
Even if you'd prefer to acquire a new car, it is not recommended that you attempt to shake a tailgater with this tactic.