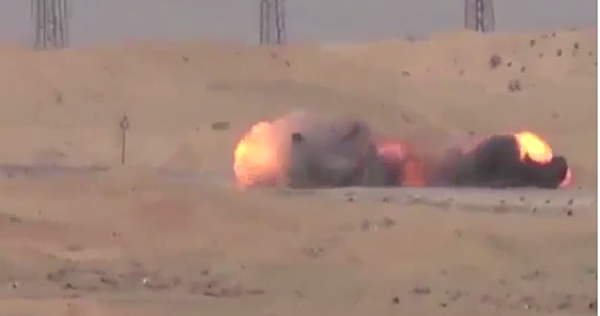 Dramatic video footage shows a suicide car become a moving fireball after being hit by a missile.
The incident is believed to have occurred in Al-Shadadi in Syria's northeastern Hasakeh province. The area is a former ISIS stronghold that has recently succumbed to a heavy offensive by Kurdish and Syrian Democratic forces supported by U.S. air strikes.
According to the Syrian observatory for Human Rights monitor, chief Rami Abdel Rahman, ISIS forces have been forced to withdraw to the south. It has continued to mount counter-offensives to re-establish control, but the Kurd and Syrian Democratic forces have maintained control.
Recently in Hasakeh, ISIS released the last batch of the 230 Assyrian Christian hostages they took from the local farming villages in the area in February, 2015. The Kurdish and Syrian Democratic forces appear to have local ISIS command in confused and in disarray.
Unofficial analysis of the video suggest that the missile destroying the car bomb in the video is likely a FGM-148 Javelin – an American anti-tank missile.
h/t
DailyMail