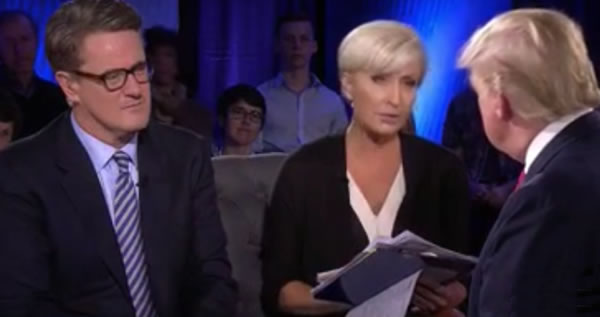 In a Town Hall interview, Donald Trump engaged in an identification game with an anchor who read descriptions of candidates who Trump tried to name.
Mika Brzezinski, MSNBC anchor, read off one description for The Donald:
"The candidate is considered a political outsider by all the pundits. He's tapping into the anger of the voters, delivers a populist message. He believes everyone in the country should have healthcare, he advocates for hedge fund managers to pay higher taxes, he's drawing thousands of people at his rallies, and bringing in a lot of new voters to the political process. And he's not beholden to any super PAC. Who am I describing?"
Trump responded confidently by saying, "Or special interests or any donors. You're describing Donald Trump."
Brzezinski corrected him quickly, "Actually I was describing Bernie Sanders." Senator Bernie Sanders is a Democrat presidential candidate.
Trump looked at the camera for a moment with a blank stare, then rebounded, "I'll tell you this. One thing we're very similar on… He knows that our country is being ripped off, big league, on trade. The problem is he can't do anything about it. He's not going to be able to do anything."
He was interrupted and asked to explain why he felt Sanders wouldn't do anything about it.
Trump responded without really answering, "Because he doesn't understand it. He doesn't understand what's happening. But he does know China and these other countries are ripping us off. Mexico."
Trump named a few companies who have moved their operations to Mexico. He identified the manufacturer Carrier Heating and Air, which recently announced the closure of two manufacturing facilities in Indiana resulting in the loss of 2,100 U.S. jobs.
He was asked who he would rather face in the general election, Bernie Sanders or Hillary Clinton.
"It's a great question," Trump said. "I think I'd rather run against Hillary just because I'd love to beat Hillary."
See the rest here: