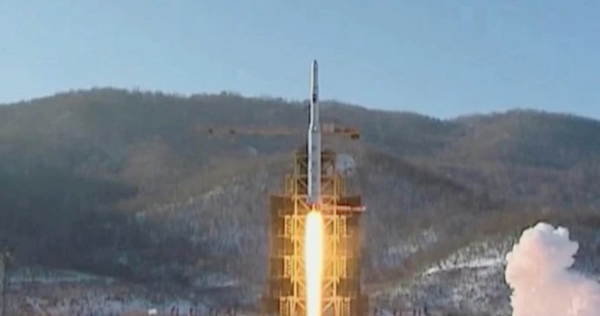 Despite Warnings, North Korea Has Fired A Long-Range Rocket Critics See As Cover For Banned Missile Test.
SEOUL, South Korea — North Korea has defied international warnings from US, UN, and South Korea and fired a long-range rocket which may be a cover for a banned test of technology for their program that is developing a missile capable of striking the US mainland.
South Korean officials confirmed the launch about two hours after an eight-day launch window opened on Sunday morning. This following North Korea's widely disputed claim last month to have tested a hydrogen bomb. It will be considered a  provocation by Washington and its allies and likely draw condemnation and more sanctions and from the United Nations.
North Korean missile tests are considered crucial steps toward their ultimate goal of owning a nuclear armed long-range missile arsenal. North Korea says its nuclear and missile programs are necessary to defend itself against what it calls decades of U.S. hostility.
For What Country Do They Need Long Range Missiles?
North Korean Kim Jong Un has overseen two of the North's four nuclear tests and three long-range rocket tests since taking over after his father, dictator Kim Jong Il death in late 2011.
North Korea insists that its rocket launches are satellite missions, but the U.S., South Korea and others U.N. member countries say they are a test of ballistic missile technology. The U.N. Security Council prohibits North Korea from nuclear and ballistic missile activity.
The Jan. 6 nuclear test has led to another push in the U.N. to tighten sanctions. In 2013 North Korea also did a nuclear test and then rattled the international community by orchestrating an escalating campaign which included threatening to fire nuclear missiles at the U.S. and Seoul.
According to CNN, North Korea has spent decades trying to develop operational nuclear weapons. It is thought to have a small arsenal of atomic bombs and an impressive array of short- and medium-range missiles. But it has yet to demonstrate that it can produce nuclear bombs small enough to be carried by a missile, or missiles that can reliably deliver their bombs to intercontinental targets.
However, it is test like this that allow them to consistently improve their long-range rocket launches capability and push its nuclear programs further along.
To make matters worse, North Korea also claims that their plutonium and highly enriched uranium facilities at their Nyongbyon nuclear complex are fully operational.
VIDEO: North Korea Fires Banned Missile That Could Strike the U.S.
source