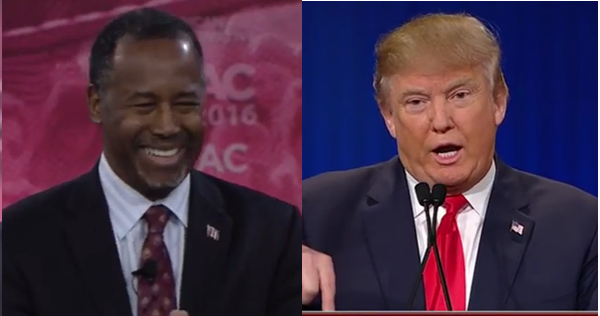 Retired neurosurgeon and former presidential candidate, Dr Ben Carson, spoke to the Conservative Political Action Conference in National Harbor Maryland about those remaining in the campaign without making an endorsement.
He warned that a prolonged, vitriolic primary battle could backfire on Republicans and aid the Democrats hold on the White House this fall.
"We cannot afford to give the Democrats all of this ammunition," Carson said. "I wish that people would remember what happened last time and how the Republicans were destroying each other."
He identified Mitt Romney's assault on Trump as a ploy that could help Democrats and "destroy the unity in the party."
Carson maintained that all of the remaining Republican candidates could do the job of president.
He cautioned those who have taken an aggressive position against Donald Trump, saying, "People who think Donald Trump would be the worst thing that ever happened … you make a really big mistake by trying to thwart the will of the people."
Carson said Trump strives to be "successful" and added he doesn't believe all Trump's campaign rhetoric would be a part of a Trump presidency.
"That's a huge part of him. He would feel terrible if he had a presidency that was not successful. And he's smart enough to know that he cannot have a successful presidency with some of the things that he's talking about, so he would appoint people who were very, very good and very, very smart and he would largely stay out of their way."
How many of Trump's supporters would feel betrayed if his campaign rhetoric did not become reality under a Trump presidency?
Carson revealed that his next move would be as chair of "My Faith Votes" where he will focus on getting out the Christian vote.
"Nothing is more important to me than my personal faith, and it is my faith that motivated me to be involved in the political process to begin with," he said in a statement. "I believe Christians in this country can easily determine the next president of the United States and all other national and local leaders, should they simply show up at the polls."
His new position precludes him from endorsing a presidential candidate.
h/t ConservativeRead