In another packed rally, this time in front of 11,000 people in Tampa, Florida, Donald Trump gave Sanders real attention for the first time.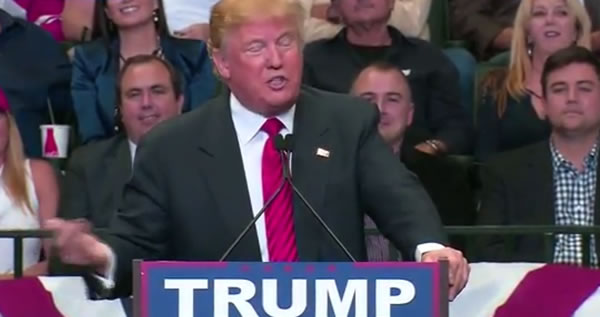 Trump dismissed Hillary Clinton as a very flawed candidate and reassured his followers that he would beat her but then he turned his attention to Bernie Sanders.
He said:
"I'd love to run against the communist.  I never thought I'd see the day in our country when a communist is the leading democrat.  We can have a communist against an entrepreneur.  I like the entrepreneur"
Trump then turned his attention to building the wall on the Mexican border.  He referred to the Mexican president who said that Mexico would not 'under any circumstances' pay anything towards building the wall.  He was asked by a reporter for his comment.  He told the crowd his comment to the reporter was:
"I said the wall just got 10 feet higher"
Having dealt with Hillary, Bernie and the wall, Trump turned his attention to Jeb Bush. Making a fast-asleep motion with his hands together he said:
'He's asleep. He's asleep at the wheel, folks,'
'He's nothing anyway. He's not gonna go anywhere,'
He continued:
'But without that [money] he would have failed months ago. It's the only thing he's got.'

'In his own way he's a vicious guy,'

'You know, he's got that little vicious streak. Because he's a gutless guy.'
He said that Jeb has bought $20 million worth of negative ads on him…
'What the hell did I do to him?
The answer of course is that Trump turned the tables on Bush, who when Trump first announced he was running, just laughed at the whole idea. Now Trump treats him with utter contempt.
Watch the video: