Pepper Spray Is Illegal In Finland, Use "The Force" Instead!
As Refugee Rapes Of Finnish Women Skyrocket, Police Suggest This?
WATCH THE VIDEO BELOW
As a response to the exponential increase of Rapes and Gang rapes of Finnish women with the influx of "refugees", The Finnish Police of Oulu have released a training video for women called, "Say No!"
Possession of Pepper spray for women is, like in Sweden where you face up to 6 months in prison, illegal. Any citizen carrying any sort of efficient self defense faces huge fines. The government insists that disarming law abiding Finnish citizens will stop crime. In fact the opposite result has caused devastating effects with the crime rate skyrocketing as foreign criminals aren't particularly concerned with weapon laws compliance.
"Criminals Are Armed To The Teeth, Helpless Single Women Face Prison For Carrying Pepper Spray."
In a recent case, a 17 year old girl in Denmark has been sentenced to a fine because she hurt the attacker with illegal pepper spray while he was trying to rape her.
Now, according to the Police in the city of over 200,000, the top methods for deterring a rapists is apparently saying "No, please go," using "The Force" with your oven gloves, looking angry and hitting the rapist with your handbag. This is extraordinarily awful advice coming from the Police, as physical resistance of a disarmed woman usually has terrible consequences and usually amplifies the violence used by much stronger male attackers, especially of foreign origin. Like drawing a knife when untrained, it escalates the situation as shown in a numerous incidents all over Europe.
Similar ridiculous advice has come from the Mayor of Cologne after the mass sex attacks by migrant mobs of over 500 women in Germany during New Year's Eve. The female Mayor advised women to:
"Keep 1 Meter Safety Distance And All Your Problems Will Be Solved."
The video is also misleading as foreigners are hugely over-represented in rapes and all other types of violent crime – so arguing with a group of 6 foot tall African cultural enrichers at night in an alley might prove to be a little more challenging than using your Oven Glove Star Wars Force against a small submissive Finn.
This video is extremely dangerous and irresponsible as it can be lethal to try using hand-to-hand combat against superior or multiple opponents without extensive training. Pepper spray or gun ownership as a woman is the only reliable way to defend against rape. The Police and everyone involved in this production giving this terrible advice is directly responsible for every escalation of violence and rape that happens in Oulu and all of Finland because of women following this horrendous advice.
COMMENTS ASKING: "IS THIS REALLY REAL?"
• Is it real ? I mean someone really created, validated, wrote… and paid for this ?
• Damn. I'm sure migrants will be terrorized after watching this bs…
• Is this for real? Interesting it's a white man playing the attacker….
• Why'd they use a white male when it's the "refugees" that are committing the crimes.
THE ANSWERS:
The white actors used in the video are both Police Officers in Finland, and yes, hard as it is to believe, it is real.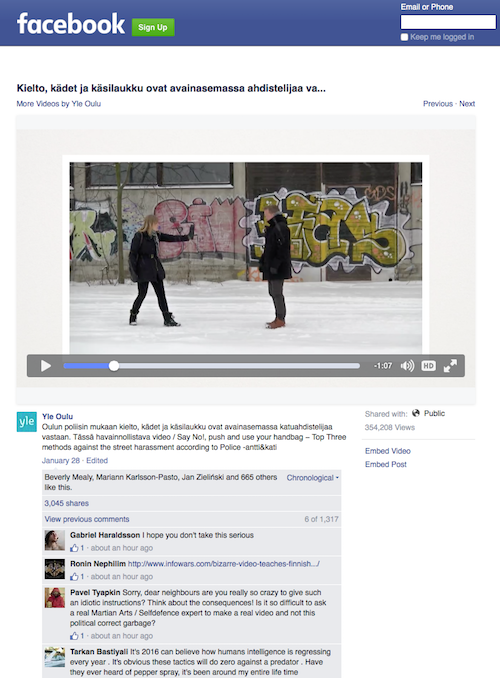 COMMENT: Funny thing you Americans don't notice is that here in Europe the whole Rapefugee crime is blamed on ALL men and is debated from a feminist angle and not a reasonable one against invaders. They say these rape crimes happen because of sexism and the fact that in white countries males are still too patriarchist. Europeans are good goyim.
VIDEO: Finland Police Release Insane "RAPE DEFENSE VIDEO" That Could Only Make Matters Worse!
source: Youtube, Facebook, Wikipedia
---