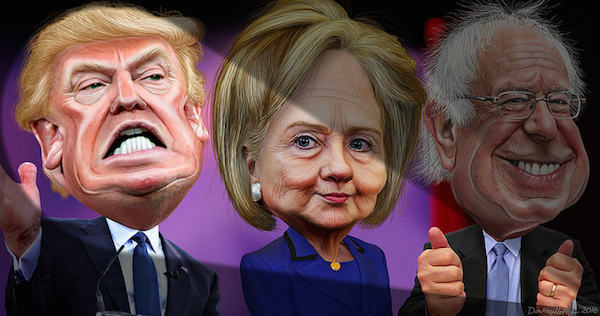 Trump Takes South Carolina; Clinton wins Nevada; Bush Drops Out
Donald Trump dominated South Carolina with a commanding 33% of the votes. At 22% each, Rubio edged out Cruz by 1/4 of a point, and after raising $1oo million Jeb Bush pulled out of the race when his 8% showing wasn't enough to fuel the flames of his dying campaign.
On the Democratic side, Hillary Clinton edged out Bernie Sanders in Nevada with a 5% lead. A critical win for Hillary as she may have stopped Sanders' momentum and put her own campaign back on solid footing as Democrats head to South Carolina.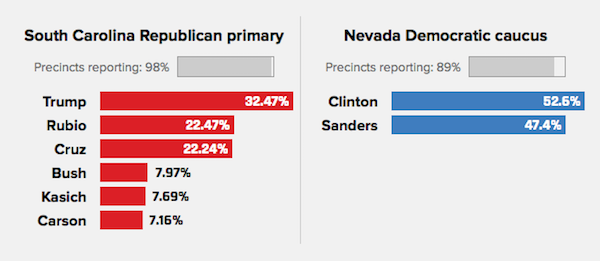 Trump has now won two of the first three Republican primaries. With a ten point lead over the #2 candidate, the chances of passing him are increasingly slim as campaign months go flying by.
One critical question remains, who will get their votes as Jeb bows out and Kasich and Carson are clearly soon to follow? Trump thinks he knows saying:
"They don't understand that as people drop out, I'm going to get a lot of those votes also."
Jeb Bush spared no expense in South Carolina hoping to turn his faltering numbers around. Even with his mother, his brother and $100 million in campaign funds, the populace didn't budge. After scoring a disheartening 8%, roughly 1/4 of Trumps followers, he 'suspended' his campaign saying:
"I am proud of the campaign we have run to unify our country. And that we advocate for conservative solutions that will give more Americans the opportunity to rise up and reach their God give potential. But the people of Iowa and South Carolina and New Hampshire have spoken and I will respect their decision. So tonight I am suspending my campaign."
VIDEO: Jeb Bush Suspends His Campaign
Bush's following was not huge, but in a race where every vote counts you can be sure that his peers are right in there trying to grab up his constituency, and his cash.
According to foxnews, Rubio declared it a three-way race on Saturday night. But Kasich's cash-strapped campaign is desperately trying to pick up as much of the Bush aftermath as possible.
It's not good news for Ted Cruz, who closed 10 points below Trump, in a state where evangelicals dominate the field. He portrays himself as the race's only true conservative saying, "we can go with a constitutional conservative and bring back morning in America."
The problem is that Trump keeps winning, even when the constituency dictates that he shouldn't. Cruz needs to find a way to beat Trump soon or his days campaign days are numbered: After one more month, the remaining states are winner-take-all, which means a close second does a candidate no good at all.
It's an uphill battle for Sanders as the Democratic race moves to Clinton entrenched South Carolina. Sanders is hoping his strength among liberals and young Democratic voters will pull him through.
Clinton is back at it working the black vote by blatantly identifying herself with President Barack Obama, saying she's the "best candidate to build upon his legacy."
The race is far from over and, according to foxnews, Sanders has the cash and support to go a long way. But the next few primaries are in Clinton country. It's likely Sanders will lose South Carolina, as well as several more delegate-rich states on Super Tuesday, including Texas, Virginia and Georgia. But Sanders has surprised us all in the past, he just might pull it off again.
VIDEO: Everything You Need To Know About South Carolina and Nevada Primaries
source: foxnews, ABC, NBC, Youtube
---