Sheriff David Clarke Just DISMANTLED Hillary's Campaign With 1 PERFECT Sentence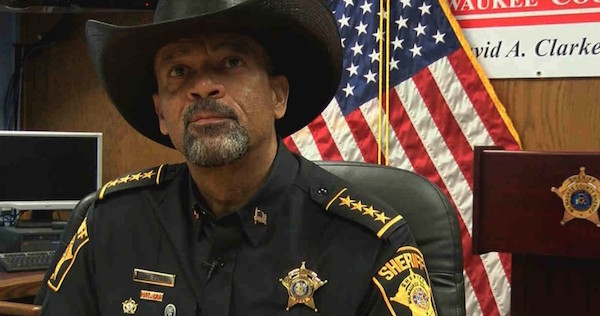 Sheriff David Clarke had something to say when he heard that former Attorney General Eric Holder would be appearing in a campaign ad for Hillary Clinton.
The Milwaukee County Sheriff Remarked That Clinton Had Found Her "Perfect Accomplice."
Milwaukee County Sheriff David Clarke has been the voice of "law and order" when speaking out on behalf of America. Not only does he speak out against political corruption or the cop-targeting side of Black Lives Matter, he also stands against the White House whenever President Obama gets out of line. Now, he's using his "law and order" approach to reveal the truth about the woman hoping to take Obama's place in the Oval Office. His reaction to news that former Attorney General Eric Holder will be making an appearance in a campaign ad for Hillary Clinton got him riled enough for the Sheriff to take another shot a the once dominant Presidential candidate as she fades into oblivion.
Recently named the 2015 "Man of the Year" by Front Page Magazine, Clarke took to Twitter to note that Holder is the "perfect accomplice" for the former secretary of state. And he explains exactly why.
According to Biz Pac Review, Holder became the first sitting Cabinet official ever to face a contempt citation from Congress after he refused to supply the House Oversight and Government Reform Committee the documents subpoenaed regarding the notorious government gun-running program known as Operation Fast and Furious in 2014.
Now, Clinton, is facing her own potential legal troubles, in the form of an FBI investigation into whether her use of a private and unsecured email server while secretary of state violated laws governing how classified information is handled, and whether she put our nation's security as well as its intelligence operatives at risk.
It has already been determined that Hillary's private email server was used to transmit highly sensitive government secrets, an action that violates the laws designed to preserve America's security. For instance, 22 of those emails had information in them deemed 'beyond secret.' So secret was this data that even most members of Congress wouldn't be allowed to see it.
Clinton's deepest compatibility with Holder may have been revealed by Democrat Jerry Zeifman, a counsel and chief of staff of the House Judiciary Committee, who supervised Clinton on the Watergate investigation. In his 2006 book, "Hillary's Pursuit of Power," he states that she:
"… engaged in a variety of self-serving unethical practices in violation of House rules."
On his now-shuttered website, Zeifman said, "Hillary Clinton is ethically unfit to be either a senator or president — and if she were to become president, the last vestiges of the traditional moral authority of the party of Roosevelt, Truman and Johnson will be destroyed."
Zeifman said that in 1974 a young lawyer who shared an office with Clinton came to him to apologize that he and Clinton had lied to him. The lawyer, John Labovitz, is quoted as saying that he was dismayed with "… her erroneous legal opinions and efforts to deny Nixon representation by counsel, as well as an unwillingness to investigate Nixon."
So, at least as far as Sheriff Clarke is concerned, the fact that Hillary has teamed up with an attorney general found in contempt of Congress is no surprise. Contempt for Congress, and the law, has been part of Hillary Clinton's and Eric Holder's tenure from the beginning. Looks like there are some tweeters who agree!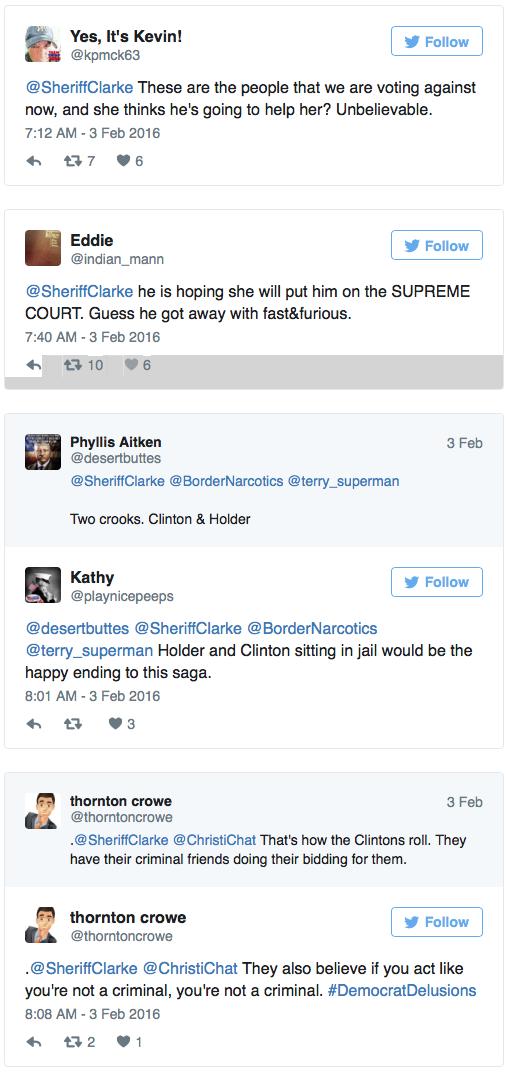 sources: BizPac Review
---