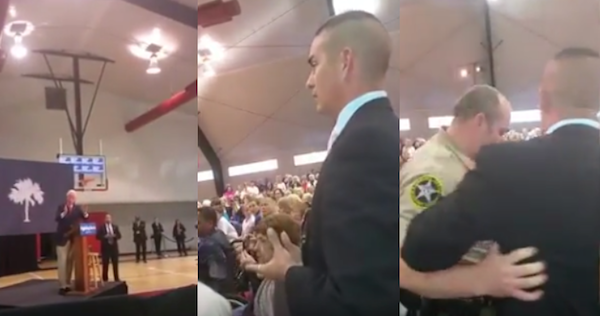 Bill Clinton Snaps At Veteran, Crowd Goes Wild, Veteran Escorted Out
Crowd Goes Hostile On Bill Clinton For Family Tradition Of Lying
The long hours and grueling pace of the presidential campaign may be finally catching up with rapidly aging Bill Clinton. During a Hillary campaign rally in South Carolina Bill loses it over Benghazi challenges saying "NO" Hillary didn't lie.
'Shut up and listen' Snaps Bill Clinton At Angry Veteran When He's Rallying for Hillary in Bluffton, SC.
Former Marine Drill Sgt. confronted Bill on Hillary's lies surrounding the Benghazi Four. Bill Clinton Loses It and shouts back "Shut Up And Listen." In his defense, the crowd wouldn't listen, they were tired of listening. This time they wanted him to listen. The audience roared and applauded as one "Mad As Hell" American after another stood up and challenged him about the Clinton family tradition of lying.
One by one the local police escorted the dissenters out of the arena as the crowd yelled and booed. Maybe Hillary is finally getting the message. Maybe Bill will clue her in?
VIDEO: Bill Clinton Snaps At Veteran 'Shut Up And Listen' Crowd Goes Hostile!
---