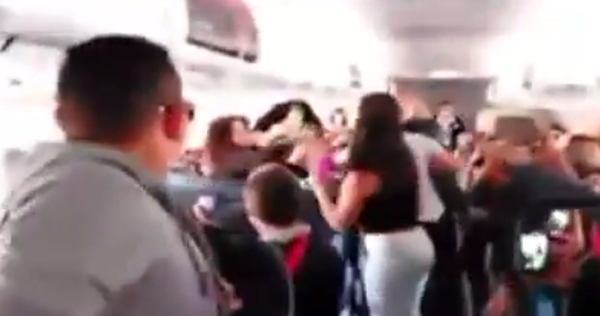 Five women were arrested in Los Angeles upon the arrival of Spirit Airlines Flight 141 from Baltimore to Los Angeles.
Two drunk female passengers felt the need to play loud music on a boom box they had brought on board the flight.
Passengers and crew requested the two turn down the music, but they responded defiantly and waved the boom box over their heads.
Eventually a group of three women approached the pair and the in-flight entertainment adopted a new dimension as an all out brawl between the five women ensued.
In the video below, you can witness hair pulling, punches flying and shouting between the five women while many passengers film the spectacle with their cell phones and others move away from the pandemonium.
Upon arrival in Los Angeles, police boarded the plane first to investigate the altercation. The FBI were also called to the scene per protocol for such in-flight incidents.
It was determined the five women were involved in a 'mutual combat situation' and neither the LAX police nor FBI pressed charges, according to FBI spokesperson Laura Eimiller.
h/t
DailyMail
,
LATimes