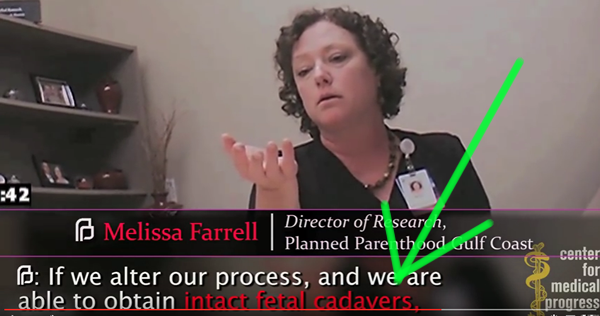 A new video at Planned Parenthood Gulf Coast and newly-released documents from a Texas Public Information Act request show how Planned Parenthood used accounting gimmicks to hide its illegal sale of fetal tissue.
The video highlights previously overlooked footage from the April 9, 2015 site visit of investigative journalists David Daleiden and Sandra Merritt from The Center for Medical Progress to Planned Parenthood Gulf Coast's abortion center in Houston. The site visit took place with PPGC Director of Research Melissa Farrell, who has overseen the organization's fetal tissue supply program since 2006.
"We had two levels of invoicing for them. We had it worded as 'per consent,'" explains Farrell as she describes a previous fetal tissue deal that took place at PPGC. Farrell indicates that "per consent" is the phrase used in PPGC budgeting in place of "per specimen" for fetal tissue.
Farrell is aware that while a patient may consent to supply fetal tissue, the specimen itself may not be useable for experimentation: "There's probably some situations where somebody would consent and then just not, we didn't get a sample, or she changed her mind, or something happened to the specimen."
Addressing this dilemma, Daleiden says: "Now obviously, we don't want to end up paying for material that we can't use," and suggests that there be a line item fee of "something else that represents the specimens." "Obviously," Farrell agrees, "Yep. Yeah."
"I just don't want it to turn into a situation that is not financially beneficial for you," says Merritt. "Yeah, yeah. And we'll, I'll take you up on that. I'll take you up on that. I'll take you up on that," Farrell repeats three times, laughing, and continues, "We definitely want to do that, because that's what staff and management need to see."
The video also includes footage of Planned Parenthood Gulf Coast CEO Melaney Linton advising that Farrell will "work on all of that with you" when it comes to "remuneration" and "compensation" for fetal tissue. Farrell told Daleiden and Merritt during lunch that her department "contributes so much to the bottom line of our organization here."
The system of accounting gimmicks and dual invoicing for "consent" payments in place of fetal specimens that Melissa Farrell describes in the video bears a striking resemblance to invoices submitted by Farrell on behalf of PPGC to the University of Texas Medical Branch in 2010 and 2011. In these documents, obtained through a Public Information Act request, two PPGC invoices for the exact same billing period charge $25 per "Consents obtained," with a total quantity of 32, and in the same time period charges $150 per "Consent payment" for a smaller quantity of 25. This is consistent with a scheme where Planned Parenthood charged $25 to consent abortion patients to supply fetal tissue, and then charged another $150 for each usable fetal specimen that UTMB could procure.
The total billing from Planned Parenthood for this tissue procurement was over $8,000. The sale, offer to sell, or transfer of human fetal tissue for valuable consideration is a crime under Texas Penal Code 48.02. Planned Parenthood is currently under investigation by the Texas Attorney General's Office, the Texas Department of Health, and the U.S. Congress for violations relating to its treatment of aborted infants and aborted body parts sales.
"The evidence that Planned Parenthood Gulf Coast charged exorbitant amounts of taxpayer money in exchange for fetal specimens that it provided at nearly zero cost is overwhelming," notes David Daleiden, CMP Project Lead. "Governor Abbott and Attorney General Paxton need to send a strong message that Houston's children are not for sale, and they must immediately appoint a special prosecutor to hold Planned Parenthood accountable to the law."
h/t
Breitbart
, YouTube