Remember This Before You Fly To Africa
A laptop bomb was constructed in such a sophisticated manner that it passed airport x-ray security scanners and was carried undetected onto the flight where it detonated prematurely and caused minimal damage.
A delay in the flight schedule appears to be the primary reason the entire plane and its passengers were not blown to oblivion.
The device detonated about 20 minutes into Daallo Airlines Flight 159, when the plane was at approximately 12,000 feet.
Investigators have identified from the flight manifest their suspect, Abdullahi Abdisalam Borleh, a Somali national, knew precisely where to sit and how to place the device to maximize damage. An airline source said, given the placement, the blast likely would have set off a catastrophic secondary explosion in the fuel tank if the aircraft had reached cruising altitude.
The hour delay in departure seems to have saved everybody on board.
Although no group has claimed credit for the attack, U.S. officials suspect the Al-Shabaab group to be the most likely culprit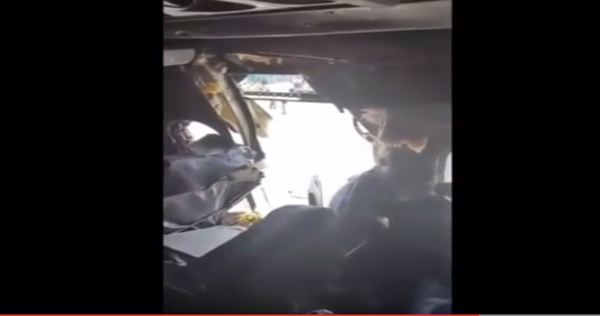 Borleh, the suspected bomber, sat in seat 16F on the Airbus A321-100 aircraft. The plane can seat 200, although Flight 159 carried only 74 passengers and 7 crew.
Had the flight been on time and at capacity, the results would have been catastrophic.
Borleh's right leg and right hand were blown off in the explosion, leading investigators to believe the bag was on his right side near the wall of the fuselage. His body had explosive residue on it when it was recovered.
So far, 45 arrests have been made in connection with the case.
Mogadishu's Aden Adde International Airport has begun using hew search and security methods, including bomb-sniffing dogs, according to Jama Jangali, the Somali transport minister.
Airport security across Africa has been a concern due to the prevalent use of single-view S-ray equipment that is significantly less reliable in detecting explosives.
Most airports in the developed world use multi-view X-ray equipment, which are generally good at detecting TNT and should catch explosives, even if concealed in electronics like a laptop.
According to William McGann, an explosive detection expert at Implant Sciences, a U.S. company that manufactures explosive detection systems, "Single view X-rays. On the other hand, would be totally reliant on a very vigilant screener at best – and TNT concealed in a laptop could be easily missed."
Lax standards across Africa and many developing nations has been the big "elephant in the room for a long, long time," an explosives expert said in Somalia.
h/t
CNN
,
DailyMail
---