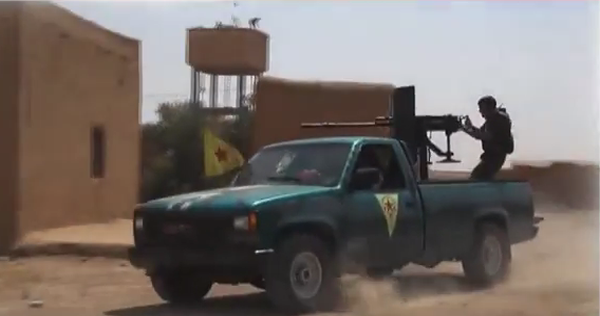 As the agreed-upon hour for cessation of hostilities in Syria under a U.S.-Russia-led plan drew near, ISIS militants launched a fierce offensive against positions held by Kurdish People's Protection Units (YPG) on the Turkish border.
"The terror group attacked YPG headquarters in Tel Abyad from two directions. The offensive started in the midnight on Saturday where ISIS launched mortar shells from its strongholds in Raqqa on the Kurdish positions in Tel Abyad, while several car bombs hit the YPG checkpoints in eastern Tel Abyad coming from the Turkish border-line," YPG leadership released in a statement.
According to Hebun Osman, YPG spokesman, scores of Kurdish fighters were injured and killed in the attacks.
ISIS attacked security checkpoints and headquarters in Tel Abyad, Sharghrat, Kantari, Nastleh, Ghuwere and Qantrah villages.
Osman continued, "Daesh terrorists have taken advantage of the current ceasefire in Syria and attacked our headquarters in this area. Our forces were eventually able to repel the attack on Tel Abyad after clashes with the militants."
The cessation of hostilities was supposed to take effect at midnight on Saturday. The UN Security Council unanimously adopted a resolution in support of the plan and demanded it be upheld.
Syrian government and insurgents had agreed to respect the objective. According to UN envoy, Staffan de Mistura, if the ceasefire is maintained until March 7th, peace talks between the Syrian government and rebels will re-start.
h/t ARAnews