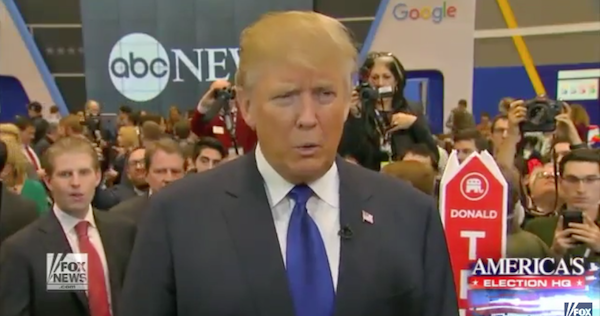 "So many people are saying I won the debate"
A seemingly calm, always logical Trump had a lot to say about the Republican debate. "I'm very happy about it" he repeated a number of times saying that the debate was well moderated and he had a chance to talk about a number of very important issues. When asked about his best moment:
"My best moment? Talking about the problems of heroin that New Hampshire has, talking about the military I like very much, talking about border security which to me is very important. There were a lot of good moments tonight, I think." Trump went on to say that he was "under a lot of pressure, because  I had to do at least modestly well tonight and to win it makes me feel very good."
His only major attack was, once again, from Jeb Bush who brought up his Democratic crazy making comments on eminent domain. It was another reversal where Trump turned the attack around and took the opportunity to explain exactly what eminent domain is and how necessary it is for our society to function.
Trumps response? He took the opportunity to describe exactly what eminent domain is, corrected accusations made against him, and explain how it affects society as well as the opportunity it can present to those who's property is being purchased, often, for a very good price.
"Eminent domain is a very important thing, we would never have roads, you wouldn't have hospitals, you wouldn't have highways, you wouldn't have airports."
"I was so glad they asked me that question, so many people came up to me and said 'I didn't know that.'"
"What changed tonight?" Trump was asked:
"What people don't know about you its that you're a very good golfer, and you know the expression "he's looking for the clubhouse." Tonight in a way I was just looking for the clubhouse. Because I think I had to do an okay performance, no major gaffes. I'm just looking at the twitter stuff and so many of your friends and your collegial are saying that I easily won the debate."
"I'm very happy about it. I really enjoyed myself tonight. I've never done this stuff before Bret, I'm a builder, I build buildings and companies and things. I don't do this and for the last seven months I've been doing it."
"I was very happy with the last debate that I missed too because I was able to raise six million dollars for the veterans. I was very happy with that also to be honest with you."
VIDEO: Why Trump Thinks He Won The Debate: "So many people are saying I won the debate

source:
---