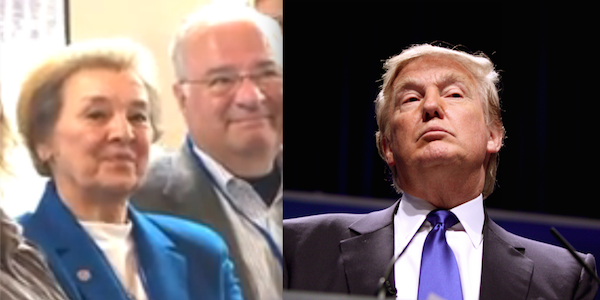 Meet The Woman Funding The Effort To Stop Trump
Republican presidential front-runner Donald Trump took to Twitter on Monday to denounce a super political action committee opposing his campaign that's primarily funded by Marlene Ricketts, whose family owns the Chicago Cubs.
Of course Trump tweeted, and here is what he had to say:
"I hear the Rickets family, who own the Chicago Cubs, are secretly spending $'s against me. They better be careful, they have a lot to hide!"
The businessman and reality TV show star is no stranger to making pronouncements, predictions and threats via social media. Trump's message apparently was in response to a USA Today story noting that Ricketts, the family matriarch who lives in Nebraska, had put $3 million into the 'Our Principles' PAC in January.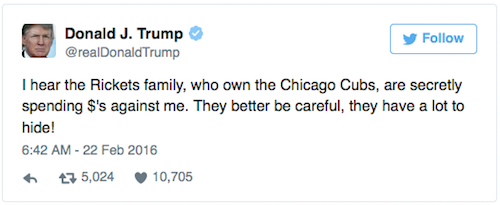 Ricketts lives in Nebraska where her son, Pete, is the state's governor. Katie Packer, who helped manage Mitt Romney's 2012 presidential campaign, runs the group.

On Sunday, Packer said there are no plans to retreat — despite Trump's win Saturday night in South Carolina. She said the group is identifying targets in the March 1 super Tuesday states "in which to launch aggressive efforts."
Our Principles PAC has spent more than $3.5 million on its anti-Trump efforts so far. In an email she responded:

"We will continue to shine a bright light on Trump's liberal statements and inconsistencies."
Federal records show that the PAC has spent about $3.5 million in ads, mailings and other efforts to oppose Trump. Ricketts had been an early backer of Wisconsin Gov. Scott Walker's failed presidential campaign, giving an allied super PAC $5 million, which made her one of his top supporters. But she also sprinkled the infield, giving $10,000 to PACs backing Florida Sen. Marco Rubio, former Florida Gov. Jeb Bush, New Jersey Gov. Chris Christie, former Texas Gov. Rick Perry and South Carolina Sen. Lindsey Graham.
VIDEO: Woman Secretly Funding $3 Million Anti-Trump Campaign Revealed: 'She's Got A Lot To Hide'
sources: ABC, Youtube, USA Today, Chicago Tribune

---