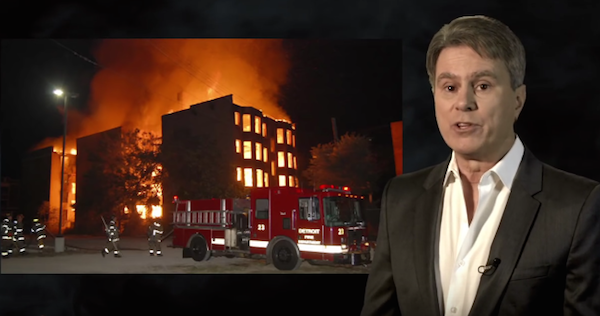 The Detroitization Of America
Host Bill Whittle shows us in excruciating detail what four, five, six, seven or more decades of 'Death by Democrats' has done to our nation's cities.
After a review of the deterioration of Detroit's Mark Twain Library, Bill Whittle takes us on a heart-wrenching historical tour of Detroit and so many cities like it that have suffered under long term democratic party rule.
"If you want to understand 'The Detroit Pattern' maybe we should start in Detroit."
Bill Whittle explains that throughout the nineteen forties, fifties and into the sixties Detroit was not the blasted ruins you see today but the thriving pulsating center of American business enterprise.
By 1960 Detroit, yes Detroit, had the highest per capita income of any city in the United State. Factories were humming, Motown Records was spinning out blues and soul and Detroit school system, called by the New Republic one of the finest in the world, was turning out world-class students of every race.
Up until 1960 Detroit could boast a large and prosperous black middle class, black congressmen, and the wages for unskilled workers were higher than the national average. 1960 was last year that Detroit had a republican mayor.
What happened? With the first of the current democratic dynasty, white liberal Jerome Cavanaugh greatly expanded the role of city government in the city's business and to his credit made a serious effort to appoint blacks to prominent positions in his administration. But this was just preamble.
The wave that eventually destroyed Detroit and so many other American cities came from Washington D.C. and Democratic President Lyndon Johnson's 'Great Society' and 'War On Poverty' program.
"Now 911 Police calls average a 58 minute response time, the national average is eleven minutes."
Four hundred and ninety million dollars in federal money, that is an enormous in the mid-sixties, poured in through the model city program. It went to housing projects and social programs disbursed by City Hall, not to help small businesses and entrepreneurs keep the city economically viable.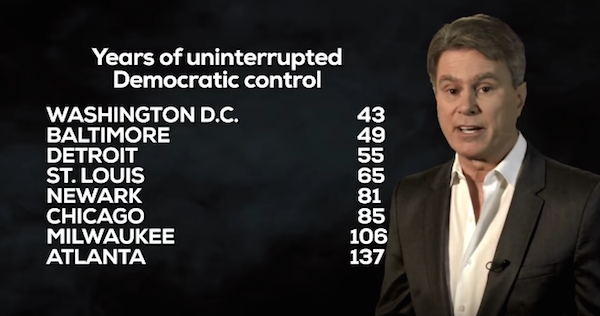 Whittle tells us that Author John Peraza has compiled a remarkable book called The New Shame Of The Cities which contains an exhaustive, amazing and depressing army of statistics that outlined the Detroit pattern that has killed those American cities ruled by unbroken lines of Democrats and Democratic Party policy.
sources: billwhittle.com, youtube
---