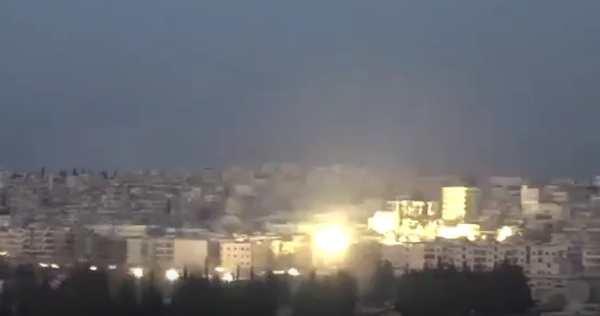 Syrian Cities Destroyed By Russian Cluster Bombs In Aleppo
<<< BREAKING VIDEO >>>
WW3 May Have Begun This Morning!
Turkey Shelling Syria, Saudis Attack, and Russian 'NEW WORLD WAR' Ultimatum!
Appalling video shows entire district destroyed by Russian cluster bombs in Aleppo, Syria as air strikes hit five hospitals and two schools and the death toll hits fifty.
Air strikes illuminated the sky as the bombing death toll, which includes children, has risen to fifty. Two hospitals and a school were also destroyed by missiles in Azaz, north Syria. In a separate incident at least 14 people died when missiles struck a children's hospital and a school near the Turkish border, Reuters reported.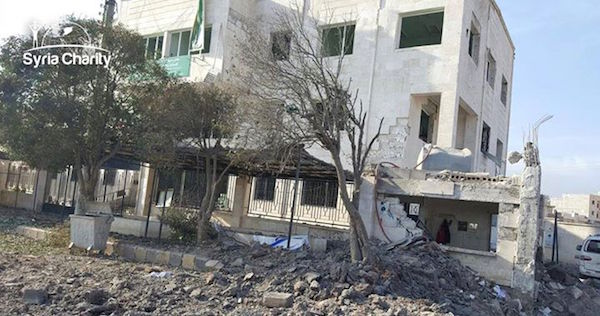 Thousands of displaces citizens are now seeking shelter in the rebel-held city in spite of  regime advances. The Britain-based Syrian Observatory for Human Rights said Russian warplanes targeted and destroyed the hospital. U.N. chiefs said the strikes were:
'Blatant Violations Of International Laws.'
Abu Mohamed, a civil defense officer in Azaz, said Russian warplanes launched strikes on parts of the town Monday, Turkey's Anadolu news agency reported. According to USA Today:
The airstrikes came after the United States and Russia announced Friday in Munich a temporary cease-fire agreement that could start as soon as the end of this week allowing humanitarian aid into besieged Syrian cities.

The Doctors Without Borders hospital in Maarat al-Numan had 54 staff members, two operating theaters, 30 beds, an outpatient department and an emergency room, the charity said.

"This appears to be a deliberate attack on a health structure, and we condemn this attack in the strongest possible terms," said the agency's Head of Mission, Massimiliano Rebaudengo. "The destruction of the hospital leaves the local population of around 40,000 people without access to medical services in an active zone of conflict."

Mego Terzian, president of Doctors Without Borders, told Reuters the strikes were clearly conducted by either Syria or Russia.

The U.S. State Department blamed the attacks on Syrian President Bashar Assad and its supporters, which include Russia. The State Department issued a statement condemning the airstrikes, saying they, "cast doubt on Russia's willingness and/or ability to help bring to a stop the continued brutality of the Assad regime against its own people."
Speaking in televised comments Monday, Assad said:
"There can't be a cease-fire without a goal or a time," he said. "So far they say they want a cease-fire within a week. Who is capable of gathering all these conditions and requirements within a week? Nobody."
<<< BREAKING VIDEO >>>
WW3 May Have Begun This Morning!
Turkey Shelling Syria, Saudis Attack, and Russian 'NEW WORLD WAR' Ultimatum!
VIDEO: MIDDLE EAST CARPET-BOMBING – 50 Civilians Killed In Syria By Airstrikes
sources: USA Today, Youtube, Reuters, Wikipedia
---