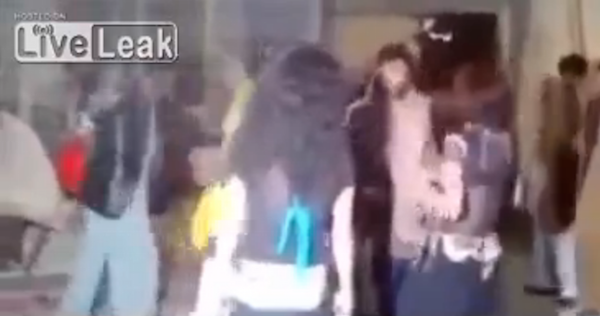 I Doubt He'll Ever Slap A Woman Again! OUCH!!!

"Hell Hath No Fury Like A Woman's Scorn"
When This Indian Muslim Suitor Is Refused A Dance He Slaps The Girl In The Face. Maybe Women Accept That Where He's From, But This Young Chinese Girl Would Have None Of It. Had No Idea What Was Coming His Way!

He grabs her hand and asks her to dance. She says NO. He pulls on her again and she says NO again. So he slaps her, hard, across the face. That was his big mistake as she lets loose with a right hook and a fury of fists that send him running for cover. Their friends pull them apart but when he smart mouths her once again, she throws him down and makes sure he never shows his bloodied face in public.
VIDEO: Muslim Boy Slaps A Chinese Girl For Refusing To Dance With Him, OUCH!!!
source: Youtube, Liveleaks
---