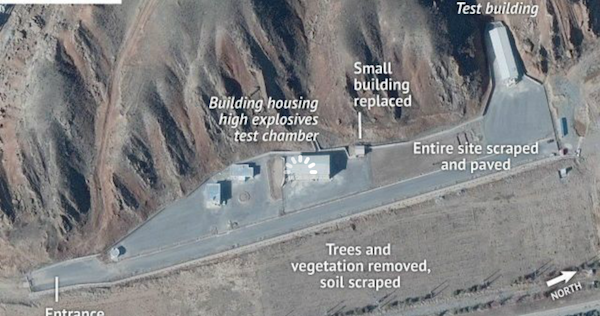 Thanks To Obama's Iran Deal, They Have Once Again Played The U.S. For A Fool.
Satellite images of Iran's Parchin Military Complex taken in July 2010 and again in January 2016 bringing into critical question the Obama administration's Iran Nuclear Deal. The following images show how Iran removed what Stratfor, an intelligence gathering and analyzing organization, describes as "potentially incriminating traces of activity at the site while talks were ongoing."
The images also reveal how the Iran military "constructed an underground facility within the complex, where research and weapons development could be concealed."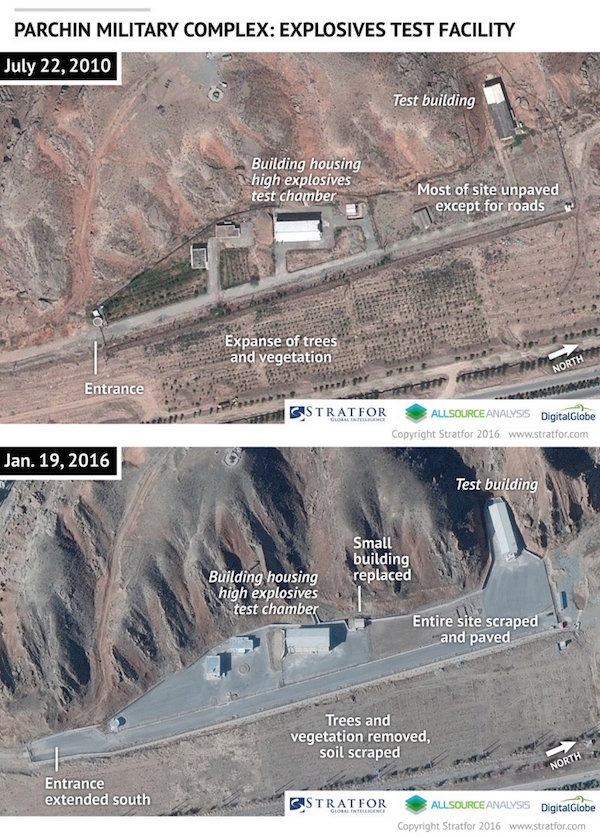 The pictures tracking the construction at the Parchin facility from 2010 to 2016 show how Iran's leaders apparently worked to keep outsiders happy while moving forward with weapons programs, even as they worked to eliminate all signs of an illegal underground nuclear weapons program.
The satellite images appear to show new pavement around the building that is suspected to be a test site for high-energy explosive charges used to detonate a nuclear weapon. Comparing satellite images from 2010 to those taken this year. Officials point out that the area has been paved, plants and trees surrounding it have been removed, and the soil scraped—all steps one would take to hide the radioactive fallout of nuclear weapons testing.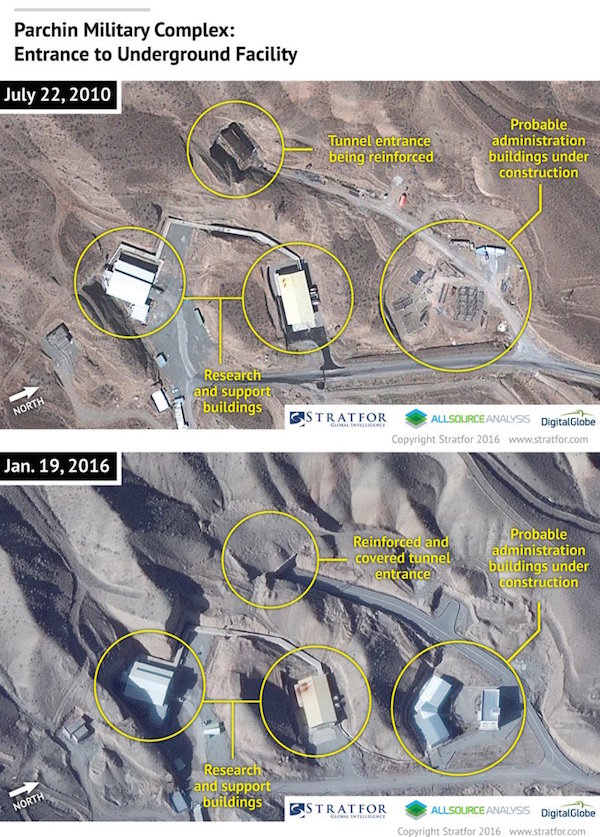 According to the Daily Beast, the IAEA sent a team to inspect the site last fall in preparation for the release of tens of billions of dollars to Iranian officials, supposedly for humanitarian purposes.
"In September, IAEA Director General Amano visited the inside of the suspected explosives test chamber building, and found it had been emptied," said Andy Weber, former Assistant Secretary of Defense for Nuclear, Chemical, and Biological Defense Programs. He added that in his opinion:
"The imagery showed they were working on a tunnel entrance within the Parchin complex…and it looks like it's complete."
Tack said. A 2014 image Stratfor did not release showed construction equipment outside tunnel entrance. He confirmed that:
"They were still going forward with that construction during the talks."
The mysterious subterranean complex could be part of Iran's ballistic missile program that initiated new U.S. sanctions in January, even as the nuclear sanctions were being lifted. Parchin was also the site of a large explosion in 2014 that the Iranian government never explained. "It could have come from a test of rocket fuel or conventional warheads," Tack said. "Whatever's hidden beneath that mountain, the IAEA didn't get a look at it last September."
"There are places where nobody knows what's going on." he said.
Obama administration officials would not comment on the photos , but insisted that IAEA inspectors can check it out if they see fit. The official spoke on condition of anonymity to support a deal that many consider to be the cornerstone of President Barack Obama's foreign policy legacy.
VIDEO: What new satellite images reveal about Iran
sources: Foxnews.com, Youtube, The Daily Beast, pictures courtesy of Stratfor Global
---