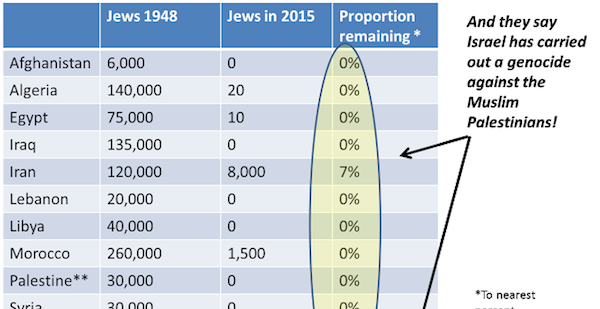 Where Are They Now?
It makes you wonder. The Jews ask for nothing other to have a safe place to live and to be left alone. Given a barren piece of desert they soon transformed it into an oasis of social, technical and medical excellence. For decades now, in the midst of the overwhelming Islamic hostility surrounding them, they continue to thrive, even though they are being bombed regularly.
The Most Extreme Case Of Ethnic Cleansing The World Has Ever Seen
Then, in a effort to obtain peace they give up their West Bank and later the Gaza strip in exchange for peace with Palestine.  Their land disappeared, but the peace never came.
The landscape has changed for the Jewish people. It always has, and it always will. And through it all they survive, adapt, and thrive.
As their presence zeros out in countries around the world, the world, once again, seems blind to their plight. How could anyone forget so fast. Why do we tolerate assaults on this vibrant society that we would not tolerate anywhere else? And how could a story become so twisted that some people actually believe that Palestine is the victim?
Still, in spite of all this distortion and abuse, I wonder, why don't we see third or forth generation Israeli Jews walking around with keys to their old homes around their necks, randomly stabbing people on the street and burning down buildings?
So, why don't they ever complain? I think they are just too busy thriving, making the most of whatever it is they have. That must be it, as I have never seen a people who can make something truly spectacular out of so little, and who do it over and over again.
FROM A COMMENT:
The data is powerful, but the expulsion of Jews from these lands was ethnic cleansing, it was not usually not genocide. Israel's presence provided sanctuary, in their ancestral homeland, for a majority of these Jews with many others finding sanctuary in France, US, Canada and a few other Western countries.

Make no mistake about it, there were programs inciting acts of violence, but the vast majority of any genocidal acts were those perpetrated by the Germans and their collaborators over seventy years ago.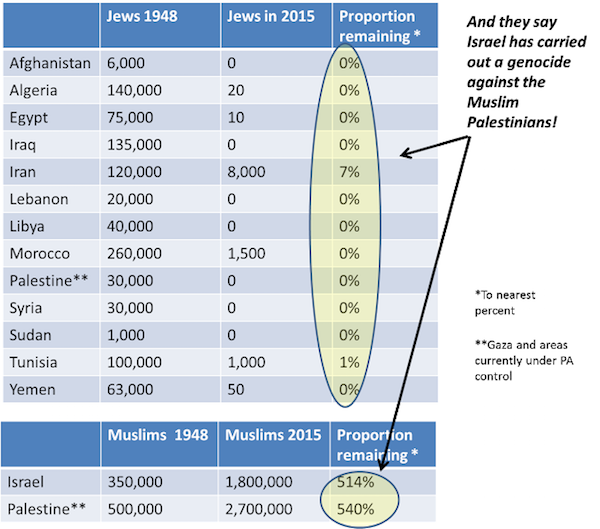 There are still people today who think we should take Israel away from the Jews.  Really?
---