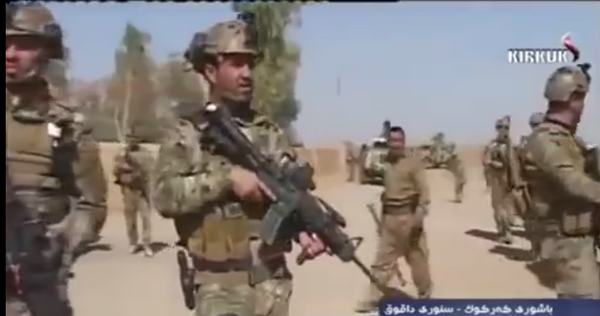 ISIS militants have suffered heavy losses and mass desertion in the northeastern Syrian territory and have also lost significant ground in Nineveh province in northern Iraq, which a Kurdish Peshmerga commander said "reflects the gradual collapse of ISIS" in the region.
"Under heavy blows by the Peshmerga, ISIS is getting weaker day by day. With the constant advance by our units and allied forces in northern Iraq, ISIS appears unable to resist for long," said Talat Saleh Zarari, Brigadier General of the Kurdish Peshmerga army.
Air bombardment against ISIS tactical units by the U.S.-led coalition has facilitated the Peshmerga's progress, according to Zarari.
"Our movements on the ground are coordinated with the western coalition, which has helped the Peshmerga make remarkable gains against ISIS in the recent weeks," he said.
Peshmerga forces have reclaimed numerous areas in the vicinity of Kirkuk as well as the Yezidi region of Shingal in northern Iraq.
The Peshmerga commander said of the effort to liberate Mosul, "According to the initial military plan, the Iraqi army would bear the responsibility of fighting ISIS inside the city of Mosul, while the Kurdish Peshmerga combats ISIS militants in the suburbs. However, we may send reinforcements to central Mosul in case the Iraqi army encountered any difficulties during the battle."
The commander downplayed reports of conflicts between Iraqi Shiite militia of the popular Mobilization Forces in Kirkuk and the Kurdish army.
"The Peshmerga tries to avoid any clashes with Iraqi groups that participate in the war on ISIS," he said. "Our main target at the moment is ISIS. Eliminating this dangerous terror organization would be a victory not only for the Kurds, but also for all Iraqi people and the entire region."
Regarding the scheduled delivery of American heavy weapons to Peshmerga forces, Zarari said, "We have been promised, but we are still waiting to receive such weapons."
"The Peshmerga forces operate with a high morale," Zarari said. "We are optimistic that ISIS would be defeated soon and peace would return to this region."
h/t ARANews