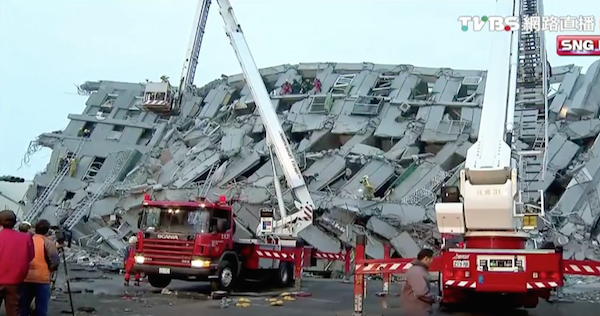 TAINAN, TAIWAN — At least 14 people have been killed and an estimate 500 hundred more injured after a massive earthquake struck southern Taiwan early Saturday morning.
As of Saturday night, dozens of children were among at least 153 people still unaccounted for in Tainan, CNA reported, citing the local fire department. A cold wave moving into the area added to their sense of urgency.
<<< HOW THE RICHTER SCALE FOR MEASURING EARTHQUAKE MAGNITUDE WORKS >>>
A 17-story apartment building and dozens of other buildings collapsed after the deadly, magnitude 6.4 earthquake shook the southern Taiwanese city of Tainan.
"The Tremor Lasted Almost Two Full Minutes."
More than 1,500 people are currently involved in efforts to rescue residents still trapped in the rubble.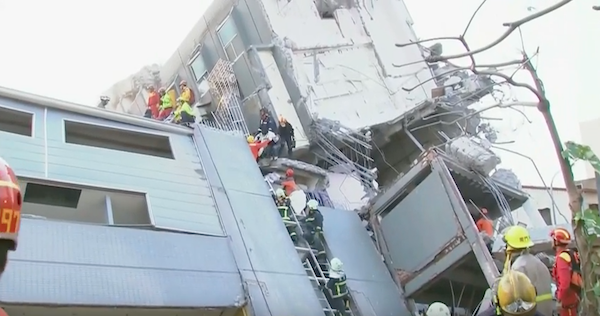 Rescue teams have saved more than 200 people but the search continues for an estimated 150 more people still trapped in the rubble. At least 500 people were injured and 14 are now confirmed dead including a baby and a 10-year-old girl, according to the BBC.
Pop star Madonna told concertgoers in Taipei that she felt the tremor in her 17th floor hotel room and it was scary, CNA reported. At the Saturday night show she offered her condolences and asked the audience to keep the victims in their thoughts.
Taiwan authorities in Tainan are in the process of setting up shelters for those who lost their homes in the earthquake.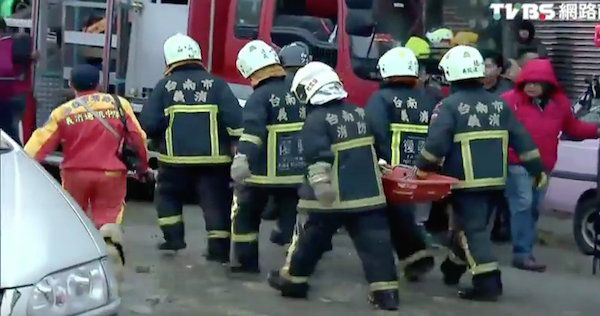 The epicenter of the 6.4-magnitude earthquake, which shook the city just before 4 a.m. local time, was 30 miles east of the southern city of Tainan. It struck about 6.2 miles deep, making it a shallow earthquake, according to seismologists.
Taiwan President Ma Ying-jeou promised an "all-out effort" to rescue people when he arrived in the damaged city.
<<< HOW THE RICHTER SCALE FOR MEASURING EARTHQUAKE MAGNITUDE WORKS >>>
VIDEO: TAIWAN 6.4 EARTHQUAKE, Several Dead, Hundreds Injured As Buildings Collapse
 source: BBC, Youtube, CNN
---