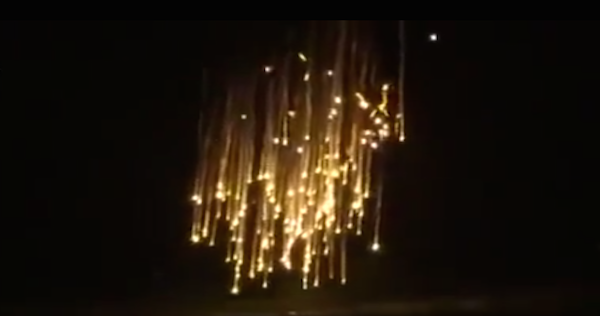 An Illegal White Phosphorous Incendiary Attack At Night That Lit Up The Night Sky Over Baynayn.
BEIRUT – Reports in that Russia has bombed a small village in the Idlib province with highly toxic white phosphorus incendiaries that cause severe burns, according to Syrian activists.
On Thursday night, social media video posts began showing the extremely flammable incendiary igniting in mid-air as it fell over the Baynayn area 25 kilometers south of the provincial capital of Idlib.
"The Baynayn area was targeted with phosphorous bombs, after several overflights by Russian warplanes," media activist Khaled Nour told All4Syria. "The bombs were seen from a very long distance away," he added. "It is an area filled with trees and empty of residents and fighters."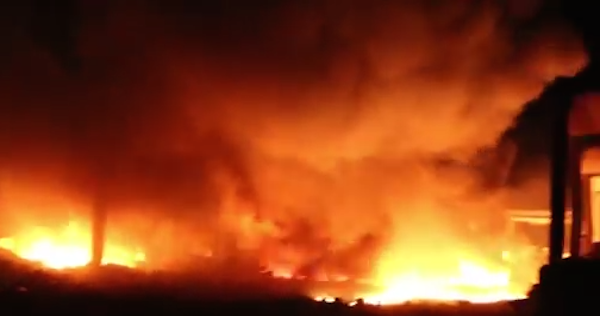 According to JewsNews, "Civil Defense members in the Shinan and Maaret al-Nuaman centers arrived on the scene and worked to help the injured and put out the fire caused by the bombing," the organization's statement added.
The legality of White Phosphorus has become quite controversial recently. Some claim it is illegal because it is considered a 'chemical weapon.' Their opponents point out that everything is a chemical including gunpowder and that the classification as illegal must be based on other criteria.
It seems the controversy is exacerbated by the incendiary's non-lethal use to either mark or illuminate targets in the night or to serve as a smokescreen to hide military maneuvers.
Beyond these uses though, the munition causes devastating injuries to humans, burning deep into tissue and eventually causing organ failure due to the toxicity of phosphorus absorbed into the skin of its victims.
Although white phosphorus is not banned by any international treaties, its use against civilian targets is at least widely condemned, if not illegal.
Even though the incendiary is not specifically banned, it is covered by Protocol III of the 1980 Convention on Conventional Weapons, which prohibits use of the substance as "an incendiary weapon against civilian populations and in air attacks against military forces in civilian areas."
Though the United Kingdom and 80 other countries are signatories to protocol III, the United States is not.
VIDEO: Russia's Illegal White Phosphorous Attack On ISIS

sources: Youtube, All4Syria, SMART, Daily Mail, Wikipedia
---