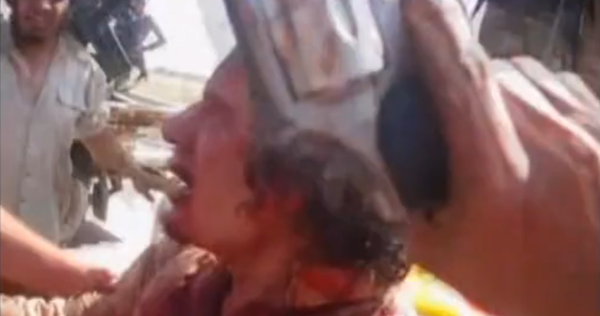 GRAPHIC VIDEO: Colonel Muammar Gaddafi Begging For His Life Before His Execution
Newly released mobile phone video shows a beat and bleeding Colonel Muammar Gaddafi being mobbed by angry Libyan rebels moments before he was executed after being dragged from a sewer drain in Sirte, 2011.
As details emerged it certainly appears that Gaddafi was executed with a bullet to the head and was not killed in crossfire as Libya's National Transitional Council claimed.
The video shows Gaddafi surrounded by scores of frenzied gunmen on the hood of a truck. The Libyan leader is begging for his life as one rebel holds a handgun to his already bloodied head. He is pleading for mercy and begging to know what he had done wrong while he is taking blows to his face and head.
The newly released footage was taken by Libyan rebel fighter Ayman Almani, who was found by BBC reporter Gabriel Gatehouse in the Libyan city of Misrata more than four years later. Almani said:
'He deserved it. Islam teaches us not to mistreat a prisoner, not to bear a grudge. But the people got carried away in the stampede and no-one could stop them.'
Gaddafi was said to have been executed with his own personal "Golden Gun" which was held up by cheering rebels as a symbol of their victory after his death.
According to The Daily Mail, the astonishing end for the tyrant came after he and loyalist fighters tried to flee Sirte as it was overrun by forces of the National Transitional Council with he help of RAF airstrikes.

Gaddafi was in a convoy of roughly 100 vehicles which tried to break out of Sirte – the last bastion of resistance after eight months of civil war. The escape was spotted by Nato which initiated two devastating strikes killing at least 50 loyalist fighters.

Injured in both legs, Gaddafi and his bodyguards then made their way through a forest where they hid in concrete sewer pipes, but were spotted by rebels.

Hammad Mufti Ali, 28, told The Daily Mail how Gaddafi had been dragged from his sewer hideout and desperately offered his captors money or gold to spare his life. Mr Ali, commander of a brigade in Sirte, told the Italian daily Corriere della Sera newspaper:
'He was pulled from the drain and he was pushed around. He said he was willing to offer anything in exchange for his life – he said he had money and gold for us if we spared his life.'
"He was losing a lot of blood – he was 69 years old and his body could not take it. He was in a bad way. He had wounds everywhere from shrapnel and from being beaten."

"I was stunned he was there. We knew his son Mutassim was in there but we didn't expect to find Gaddafi in person. We were convinced he had fled into the desert and was even maybe in Niger or Chad."

Mr Ali, who spoke fluent Italian said: "Gaddafi was very confused and clearly very frightened. He kept saying that he had money and he was willing to pay for our children to go to school."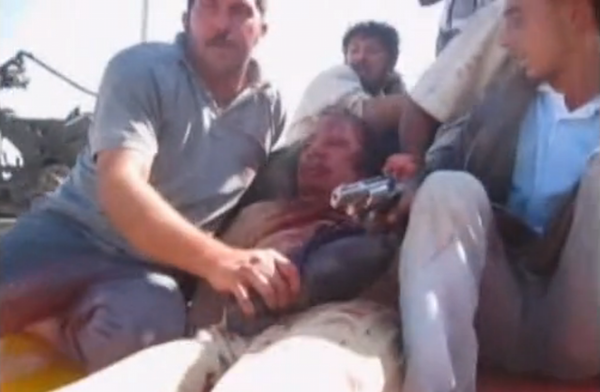 "At one point someone screamed at him that instead of talking about money, as a good Muslim he should have been praying for his soul to be entrusted to God before dying.
'But he just kept saying he was ready to give us lots and lots of money and gold.'
Gaddafi was said to have billions in cash and gold hidden away in secret accounts around the world. Reports earlier this year claimed he had hidden some of his wealth in Zimbabwe.
The International Monetary Fund said it believed Libya had at least 140 tonnes of gold hidden away, if not more, that was hidden in the vaults of the central bank in Tripoli, but he reportedly took several bars with him to use as bargaining chips.
Similar footage was released at the time of his death, but this video captures his final moments pleading for his life. It shows frenzied scenes as Gaddafi is surrounded by screaming mob of gunmen on the hood of a truck where he was executed.
VIDEO: Colonel Muammar Gaddafi Begging For His Life Before His Execution

source: BBC, The Daily Mail, Youtube
---