"Winning Feels So Much Better When You're Kicking Overconfident Ass!"
One of those "Very Best Moments" when an headstrong young whippersnapper realizes that he's got nothing on the "clueless old man" who is about to give him a whipping that he's never going to forget!
"Ninety six-year-old Jack Uri, Jumping Jackson, ahead right now after the flop, his grandson Seth Harold by side," calls out the announcer.
"Jack bets a thousand on the flop of 667."
"You want to just get them all in," pressures opponent Steven Friedlander thinking he's going to take the old man for a ride.
"And Steven Friedlander, moves all in," cries the announcer.
"You might as well get them all in," pressures Friedlander.
"Hey, don't push around my man Jack Uri."
"Jack's gonna make the call . . . yeah! He puts himself at risk," screams the announcer as a feeble Jack Uri puts it all on the line.
"The crowd cheers as Friedlander shows a full houses! This might be it for Jack Yuri."
"You're in trouble," warns the elderly Jack Uri.
"Show us!  Show us! Show us!" demands the overconfident Friedlander.
"Do you want me to turn them over," asks the seemingly clueless old man.
Boy does he ever show them!
The crowd goes wild as the "clueless old man" turns over a full house that cleans house!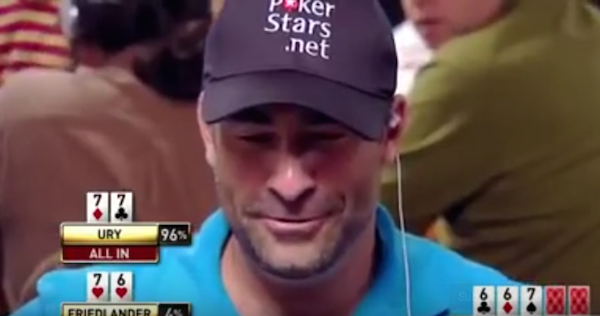 "Jack Uri doubles up!" Calls out the excited announcer who in his delight says:
"I can't wait until I'm 96 years old and can slow roll some punk half my age. You go Jackson!"
VIDEO: 96-Year-Old Man Shows Cocky Poker Player Who's the Boss
source: Youtube
---