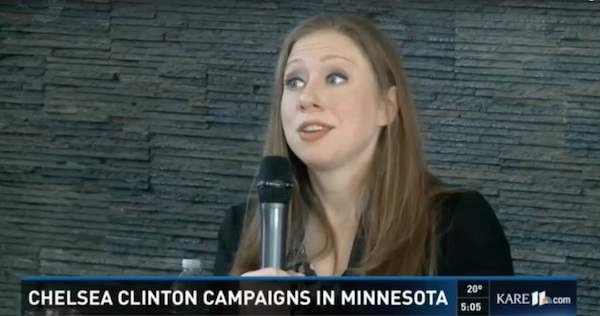 Chelsea Clinton Let Something Slip On TV Her Mom Is Going To Hate
"PRESIDENT SANDERS?"
Seems Even Chelsea Clinton Is Feeling The BERN!!!
While campaigning for her mother's Presidential race in Minnesota, Chelsea Clinton made a slip of the tongue when speaking about Hillary Clinton's rival, Senator Bernie Sanders, D-Vt.
It may have been a relatively minor slip-up, but it gives us a major insight into the severity of the problems facing the Clinton campaign's inner circle. In this one revealing moment Chelsea Clinton calls Bernie Sanders "President Sanders."
"We also need to strip away the immunity that President Sanders — excuse me — Senator Sanders, I hope not President Sanders…,"
Although the oops was brief, it got a good laugh from the crowd, Chelsea recovered fast and went on. Still you can't help but wonder what like is like at the Clinton dinner table as her once next President of the United States mother watches her number slipping silently down the drain.
Initially Chelsea's assigned objective was to present a softer side of her mother in an effort to counter the harsh demeanor Hillary presents herself. Now she has taken to the offensive to go against Sanders. A significant tactical change, and there is a reason for it. Mom's desperate, . . Sanders is beating her and the momentum is on his side!
Speaking of the challenge from Sanders, The Hill quoted one Democratic strategist saying, "This is real and they've got to be freaking out."
"The thing that tells you as much as anything about their current state of mind is Chelsea going on the attack. It tells you everything you need to know."
Rep. Raúl Grijalva (D-Ariz.), who endorsed Sanders, told The Hill the attacks are a sign the Clinton campaign is worried . . . very worried.
"I perhaps could see it coming from Bill, but I was taken aback hearing it from Chelsea," said Grijalva. "I was surprised and thought it was out of character. It seems the Clinton campaign is going into full destruction mode very early in this process."
Using her daughter to drive home attacks on her rival takes away one important role needed in the Clinton campaign that only Chelsea could fill. As one strategist put it:
"The best role for her is to help in humanizing Hillary and talking about what a great mother and grandmother she is," said Democratic strategist Brad Bannon. "Hillary has plenty of edge on her own, she doesn't need help there. She has such an asset in her family if only they can use them the right way."
"This makes Chelsea just another political player in the arena, and if I was Chelsea, that's not where I'd want to be," said Bannon.
VIDEO: CHELSEA'S BIG OOPS!  Mom's Not Going To Like This At All!

sources: The Hill, Youtube, Westernjournalism, KARE-TV
---