So this meme is going around (as memes tend to). And it's got things exactly wrong (as memes tend to). It was shared by the Other 98%, a "grassroots network of folks committed to kicking greedy corporate asses for the harder working classes. And we have fun doing it." Naturally. Yea Socialism! Let's burn some s*** down!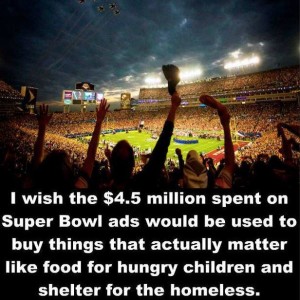 There's so much irony here. Off the top of my head I can name several "greedy corporations" that made this meme possible. (Because, you know, "you didn't build that.") Someone took the photo with their Android, Windows or Apple smartphone (or perhaps a Nikon or Canon SLR). Someone used software and hardware created by Windows or Apple or some other tech giant to create the meme. She posted it to Facebook using an internet connection provided by Verizon, Comcast or some other communications corporation. And I'd be willing to bet that she was doing all this while sipping a latte at Starbucks and listening to Beyonce rail against the very people who protect her wealth.
But irony aside, this meme goes to the heart of what is wrong with our society and the key difference between socialism and capitalism.
Let's assume for a moment that the creator of this meme is genuine in her concern for hungry children and the homeless. She is assuming that, because $4.5 million was spent on Super Bowl ads (depending on when it was run, this is actually less than the cost of a single :30-second ad) that it won't go to "feeding the foodless and housing the houseless." But again, that's exactly wrong. The money spent on advertising in conjunction with the Super Bowl helps multiple times more than that same dollar amount could put to directly helping the poor (i.e. giving them a "hand out"). Now don't get me wrong, I think everyone should help the poor directly, especially those who are the eluded to "2%". With great wealth comes great responsibility and all that and some folks, naturally, are in a hard place because of little or no fault of their own. But a poor man never gave another man a job.
Socialism assumes that the pie is only one size and can never grow. Peyton Manning earned $2,051,000 just for winning the Super Bowl (and, yes, he did earn it). But that doesn't mean someone else went without that money. In fact, because Peyton earned that extra bonus, lots of people other than he are going to benefit. There's his family, of course, and his agent. Those are a given and they, undoubtedly, contributed to his success through their support. But there are the advertisers too, especially those in Denver. And here's the real kicker; because their local boy made good, these advertisers are going to pay for the privilege. Some local car dealer or plumbing company or mortgage broker is actually going to give Peyton another big pay out just to drive around their cars or refinance his mansion with their mortgage company. Why? Because they're making the safe bet that the $100,000 they're paying him on top of the $1 million dollars they're paying the commercial producers, TV stations, and newspapers, is going to translate into $10 million in added sales. And it doesn't stop with the advertisers. There'll be a parade. There'll be lots of Peyton Manning jerseys sold by people making minimum wage (but, hopefully, just happy to have a job) and on and on.
Capitalism has lifted more people out of poverty than any other force in history. And that's not just a side effect but by design because not only has a poor man never given another man a job; a poor man has never plopped down $100,000 for a new Mercedes. Capitalism wants people to be wealthy. Capitalism wants people to "waste" money on heated seats, tickets to the Super Bowl, and $5 lattes. If it didn't, the guy installing that heated seat that feeds his family on the $70,000 a year he makes; the gal selling peanuts at the Super Bowl for, well, peanuts; and the barista, who is working her way through college so she can get a job doing what she really wants, providing free health care to poverty stricken children in Sudan; they'd all be the ones in need. And not only is that a horrible thing tangibly, but it's a horrible thing, a much more horrible thing, mentally, because when you rob a man of his job you rob him of his dignity.
So who really cares more about the poor? Is it the socialist who doesn't really care about the outcome as long as he "feels" he's doing something (or even the socialist who does care about the outcome, even if he is blind to the reason for his failure)? Or is the capitalist, who, even if he is the greedy S.O.B. the "other 98%" like to chastise and just wants to make his next million, is giving not just the barista a job when he walks in to buy his latte every morning; but the farmer who grew and harvested the beans; the deckhand who worked on the ship that transported the beans to Los Angeles and the trucker who took them the rest of the way to Denver; the biology professor who is teaching the barista the anatomy she'll need to save a child's life; and the biology professor's dry cleaner, who came to this country from North Korea with nothing but a $20 bill sewn into his sock and a dream that he couldn't achieve in his homeland because someone was too concerned with "equality" and the "poor" to realize that there's no virtue in everyone being equally poor?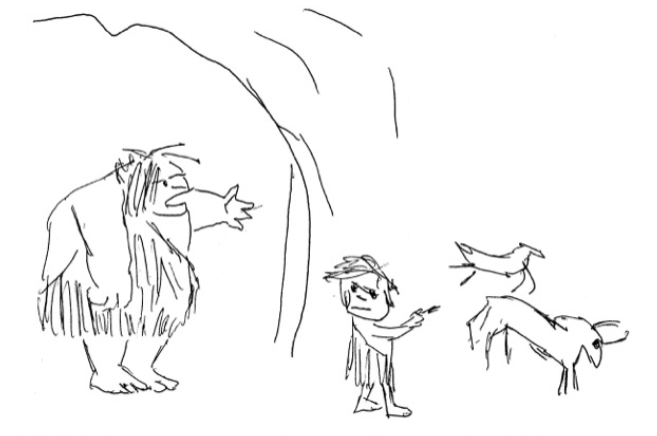 And, finally, the other great benefit of "wasting money on needless things", is that the needless things of yesterday become the necessities of today and help make our lives so much better. After all, what is absolutely necessary but the few berries and maybe a fish or a deer our cave-dwelling ancestors were able to scrounge up and the cave they dwelled in. And even if they aren't the necessities of today, we, as humans (and even most animals), realize that there is much more to life than subsistence living. There's even much more to life than the benefit of being able to call a tow truck from the side of the road in rural Montana during a snowstorm because you have that "needless luxury" called a cell phone. There's the joy come from enjoying a movie with friends or a decadent chocolate cake with your wife (or by yourself). So the next time you watch a few million dollars go up in fireworks, or learn that some internet billionaire spent the equivalent of your life's wages on a painting by someone you've never heard of, rejoice! It means capitalism is working and it means more and more people are living a better life today than everyone who came before them.